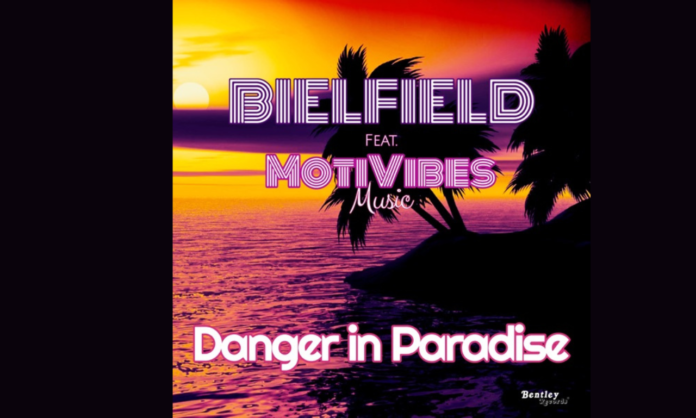 Pop sensation Bielfield is making waves with his latest chart-topper, "Danger In Paradise," a genre-defying hit that has captured the hearts of fans worldwide. Premiered on the popular reality TV show "Temptation Island," this energetic and captivating song is setting the airwaves ablaze with its tropical undertones and infectious hooks.
Bielfield's "Danger In Paradise": A Mesmerizing Blend of Genres
Bielfield's latest single, "Danger In Paradise," is a captivating fusion of pop elements with a tantalizing hint of tropical vibes. The song bears the distinctive mark of Bielfield's signature style, with irresistible hooks and a beat that beckons you to hit the dance floor.
The creative brilliance behind "Danger In Paradise" is none other than the MotiVibes Music duo – Michaela and Liz. This talented pair is known for their exceptional songwriting and production skills, which have beautifully complemented the allure and charm of Bielfield's latest masterpiece.
The "Temptation Island" Connection: Love, Drama, and "Danger In Paradise"
"Danger In Paradise" found its way into the hearts of millions through its feature on the hit reality show "Temptation Island." The show, known for testing couples' relationships amidst a tropical paradise filled with attractive singles, has struck a chord with audiences worldwide.
In the latest season, Bielfield's "Danger In Paradise" has become the show's anthem, accentuating the rollercoaster of emotions experienced by the couples. Its captivating beats and seductive lyrics perfectly encapsulate the essence of the show, making it an ideal soundtrack for the intense romantic drama that unfolds on "Temptation Island."
Behind The Music: MotiVibes Music
The success of "Danger In Paradise" owes much to the creative minds behind the scenes – the talented duo of MotiVibes Music, comprising Michaela and Liz. Their unwavering commitment to their craft and their exceptional ability to craft chart-topping melodies have once again shone through in Bielfield's latest hit. Their skillful production and songwriting stand as a testament to their passion and love for music.
Bentley Records: Enabling a Global Release
Facilitating the worldwide release of "Danger In Paradise" is Bentley Records, a renowned music powerhouse based in New York. With their extensive reach and resources, Bentley Records has ensured that the song reaches every corner of the globe, allowing fans from diverse cultures to revel in Bielfield's fresh and intoxicating sound.
In Conclusion: "Danger In Paradise" – An Electrifying Ode to Romance and Creativity
"Danger In Paradise" is more than just a song; it is a celebration of the thrill and allure of reality TV romance. It showcases the remarkable collaboration and creativity that can result in a musical masterpiece, solidifying Bielfield's position in the pop music realm and perfectly capturing the dynamic energy of "Temptation Island." If you haven't experienced the magic of "Danger In Paradise" yet, you're missing out on a piece of pop culture that's sure to leave an indelible mark on your heart.
Listen To Song: https://bentleyrecords.lnk.to/Bielfield-DangerinParadise
Follow Bielfield: https://www.instagram.com/Bielfield/
Follow MotiVibes: https://www.instagram.com/motivibesmusic
Follow Bentley Records: https://www.instagram.com/bentleyrecords