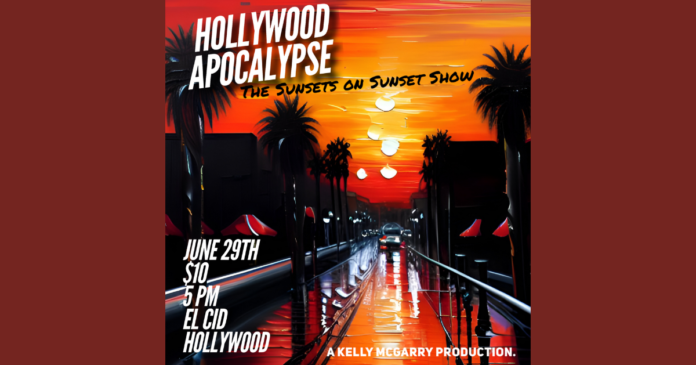 Hollywood Apocalypse: The Sensational Punk Rock Phenomenon
Introduction:
Get ready, Los Angeles! Hollywood Apocalypse, the sensational punk rock band led by the talented and versatile musician Ivan Hruska, is gearing up to rock the stage at El Cid on June 29th. This much-anticipated event promises to be a night of explosive energy, raw emotion, and unforgettable music at the iconic music venue in the heart of Hollywood.
The Authenticity of Hollywood Apocalypse:
Known for their authentic and heartfelt approach to music, Hollywood Apocalypse has been making waves in the punk rock scene. Ivan Hruska, the driving force behind the band, has been passionate about music since a very young age. Their connection to punk rock runs deep, considering it their home and safe space. With a lifelong obsession for music, Ivan's natural talent shines through their performances, captivating audiences with their raw and powerful sound.
A Journey of Musical Exploration:
Before forming Hollywood Apocalypse, Ivan embarked on a five-year solo project tour across Europe, leaving a trail of dedicated fans in their wake. This experience helped Ivan refine their musical style and gather a team of talented individuals who now bring their vision to life. Collaborating with Thomas Queyja as the engineer at Lip Studios, Tape Legacy as the new guitarist, and Nieg providing support from Germany, Hollywood Apocalypse has assembled a winning formula for success. Together, they have created a captivating new single, "Tomorrows Only Make Believe," a classic song reminiscent of the golden era of punk rock in the early 2000s.
The Electrifying Live Shows:
The band's live shows are renowned for their electrifying energy, and the upcoming performance at El Cid will undoubtedly be no exception. Ivan will be joined on stage by a group of extraordinary musicians, including Roland on drums, Lisa on keys, Proto on bass, and the sensational Johnny Mayo, whose guitar solos are sure to leave the audience breathless. Prepare for a night of pure punk rock bliss as Hollywood Apocalypse ignites the stage with their explosive presence.
"Bonus Dias From SkidRow": A Powerful Musical Journey:
In 2022, Hollywood Apocalypse released their second album, "Bonus Dias From SkidRow," which Ivan considers a life-changing experience. Recorded at the renowned Lip Studios in downtown LA, the album draws inspiration from Ivan's observations while driving through the war zone-like area of Skid Row on their way to work. Through this album, Hollywood Apocalypse delivers a powerful collection of songs that authentically capture the raw essence of their surroundings, touching the hearts of listeners.
Expanding Boundaries and Pushing Limits:
Looking ahead to 2023, Ivan has ambitious plans for Hollywood Apocalypse. They aim to push their boundaries and explore new genres, potentially collaborating with other artists to create groundbreaking music that resonates deeply with their audience. With their unique aesthetic, incredible talent, and unwavering dedication, Ivan Hruska and Hollywood Apocalypse are poised to make a lasting impact on the music industry, defying expectations and carving their own path.
Don't Miss Out on the Punk Rock Phenomenon:
Don't miss your chance to witness the punk rock phenomenon that is Hollywood Apocalypse live at El Cid on June 29th. Prepare to be immersed in a whirlwind of intense emotions, contagious energy, and a performance that will leave you craving more. Follow Hollywood Apocalypse and their music to stay up-to-date with their latest endeavors, and get ready to be part of an unforgettable night of punk rock bliss.
Closing:
Get ready, Los Angeles! Hollywood Apocalypse, led by the talented and versatile musician Ivan Hruska, is about to unleash a punk rock revolution at El Cid on June 29th. Brace yourself for an explosive night of authentic music, electrifying energy, and an experience that will leave a lasting impression. Be part of this punk rock phenomenon and immerse yourself in the raw emotions and contagious energy of Hollywood Apocalypse. Get your tickets now and prepare for a night you won't forget.