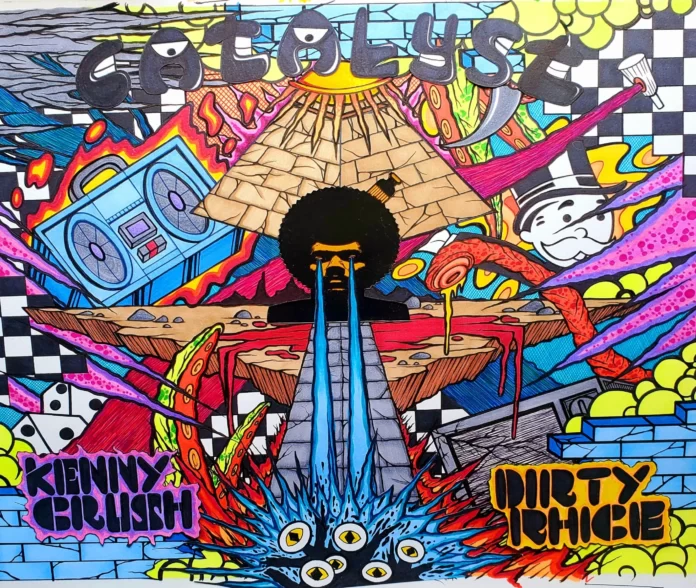 Joining forces in an epic hip-hop collaboration, is Kenny Crush and Dirty Rhice. Together, the duo have teamed up to write and record their EP 'The Catalyst', a boom-bap record, set for release on all platforms on January 5th 2024.
First meeting in 2017 (despite being members of the same graffiti crew which started in 1986, NTS), Kenny Crush and Dirty Rhice (also known as Def Defiant) have spent the past couple of decades making music individually. Recognizing the talent that lies in each other – Kenny Crush as a wordsmith, and Dirty Rhice as a beatmaker – they felt it was time to collaborate for something special.
With both artist and producer being heavily influenced by the five elements of Hip-Hop, they lean in to these influences on this hard-hitting record: 'We're setting the stage for something unexpected' explains Kenny Crush.
Title track 'Catalyst', gives a clear indication that their union is something to be taken seriously. Dirty Rhice blends smooth beats with warm synthesizers, offering varied timbres and textures. The track adopts boom bap characteristics, with a swing rhythmic feel and a funky bass line.
Featuring Kenny Crush's brother Spill Mics, the vocal delivery jumps between the two brothers, providing an effective vocal contrast. In places, the stacking of multiple vocals brings a sense of community, demonstrating the collective essence of the project.
'Behold' cleverly integrates evocative voice samples – 'Don't you want to be a cult leader?' states the opening line and closes with 'People just can't think for themselves and that's dangerous' – leaving listeners immediately hooked. The lyrical concept takes a look at the effects of social media and Kenny Crush's lyrical flow is an exploration of this topic, accompanied by vintagesounding boom bap kick drum and snares and a looping bass line that grounds the track.
'Exercise Your Writes' remains firmly in the vintage and nostalgic sphere, but welcomes ascending and descending contemporary synthesizers, swirling in and out of each other, while Kenny Crush's rich vocals lead the song. Dirty Rhice's attention to detail elevates the EP, such as the occasional delay on Kenny's vocals on this track, which further accent the message. This chilled and mellow arrangement also takes time to give heartfelt shout outs.
'4080 Rule' evokes maximum impact with powerful drum beats and vocal 'oohs'. The track takes a darker turn than the rest of the EP, with brooding and thought-provoking lyrical content; 'Industry rule number 4080, record companies are shady'. The result is a haunting and atmospheric track, driven by Dirty Rhice's striking beats.
'The Catalyst' is a slick and contemporary record that shines a light on the talent and skills of both artist and producer. Their alliance is a force to be reckoned with and while the soundscape explores years gone by, there's something extraordinarily relevant about its place in the world today. This is just the beginning for Kenny Crush and Dirty Rhice, who already have plans to hit the studio and dive deep into their arsenal to create their next powerful chapter together.
CONNECT WITH DIRTY RHICE/DEF DEFIANT
Instagram: def_defiant
Email: boogawulf@gmail.com 
CONNECT WITH KENNY CRUSH
Instagram: mustafaahali
Email: mustafaahalimusic@gmail.com