Exploring the Unique Blend of Creativity with 100it
Troy Stokes, known in the music world as 100it, hails from the vibrant city of Detroit, Michigan. He isn't just an artist; he's a label owner and CEO, carving his path in the industry. In this exclusive interview, we dive into his music journey, his inspirations, creative process, and aspirations for the future.
A Musical Odyssey: Troy Stokes' Journey
What ignites a passion for music in someone? For Troy Stokes, it was the presence of musically inclined individuals in his life. Surrounded by such influences, the seeds of his music career were sown.
A Father's Legacy: The Inspiration Behind 100it
Family plays a significant role in shaping one's destiny, and for Troy, his father, known as Mc Visious, was the driving force behind his musical journey. Mc Visious, an artist who collaborated with legends like Kurtis Blow and Roxanne Shanté, imparted his wisdom and love for music to his son. It was a torch passed from one generation to another, carrying with it a rich legacy of hip-hop culture.
The Artistry of 100it: Defying Genre Boundaries
100it's music transcends genre boundaries. While he dabbles in various styles, his core identity revolves around hip-hop and rap. What sets him apart is his unique touch, a distinct flavor that permeates his tracks.
Crafting Music: The Creative Process
Ever wondered how artists bring their music to life? For 100it, the process starts with the beats. Whether he's handed one by Lokktrax, a prolific producer from D1B, or he creates his, the journey begins by immersing himself in the music. As the beat fills the air, the words flow effortlessly. From the first stroke of inspiration to the final mix and master, it's a process that takes just a couple of hours.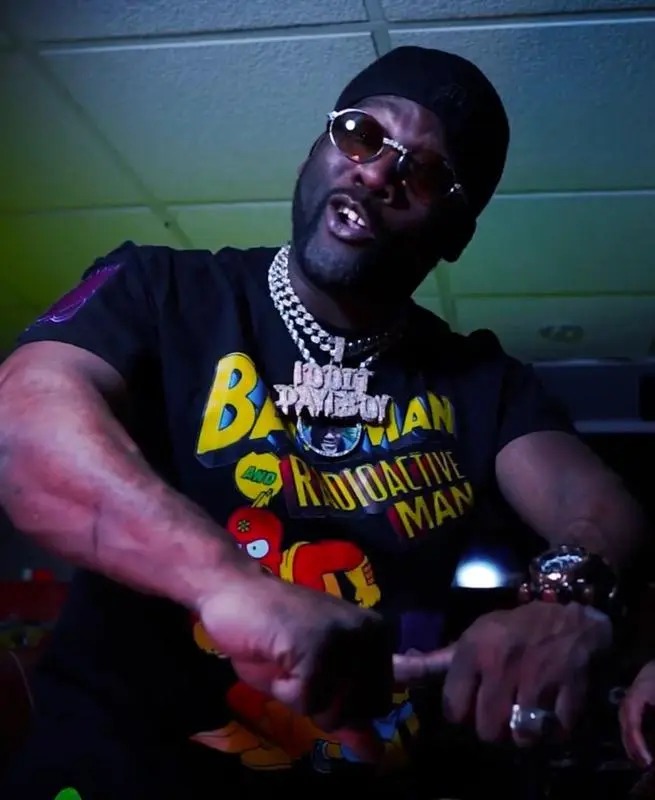 Dream Collaborations: Looking to the Stars
In the world of music, collaborations can be transformative. When asked about his dream collaborations, 100it's list reads like a who's who of the industry. Names like Drake, Lil Baby, Jay-Z, and Lil Durk are on his radar, artists whose creative synergy would undoubtedly set the stage on fire.
Opening Acts: Paving the Way to Stardom
While headlining a show is an artist's dream, opening for established acts can be equally impactful. For 100it, any opportunity to perform alongside a hot artist is a chance to create a buzz. It's about seizing the moment and making an indelible mark.
Beyond Music: Multifaceted Talents
Artists are often multifaceted, and 100it is no exception. When asked about his most useless talent, he humbly responds that all his talents have a purpose. He considers himself a "one-stop shop," demonstrating his versatility and commitment to excellence.
Parallel Universe: Troy Stokes' Alternate Path
Ever wondered what an artist might be doing if not for their music career? For 100it, it would be engineering, a testament to his diverse skill set and determination to excel.
Upcoming Ventures: What Lies Ahead
While there might not be live shows on the immediate horizon, 100it's creative journey is far from stagnant. He's venturing into directing his movies and skits, working on more music videos, and teasing exciting new music projects for his eager audience.
Impact of the Digital Age: Redefining the Music Business
In an age defined by the digital revolution, the internet has been a game-changer for the music business. Artists like 100it have witnessed firsthand how the internet broadens their reach, allowing them to connect with a global audience.
Musical Influences: Standing on the Shoulders of Giants
Behind every artist stands their inspirations, and for 100it, they include industry legends like Jay-Z and 50 Cent. These iconic figures continue to inspire him to stay true to his craft and make a lasting impact.
Words of Wisdom: The Best Advice Received
The best advice often carries artists through their journey. For 100it, it's simple yet profound: keep working hard, and your efforts will yield results. It's a mantra that has propelled him forward.
What's Next: A Glimpse into the Future
As we wrap up our conversation with 100it, he leaves us with a glimpse into his future. He's not just about music; he's about storytelling through directing movies and skits. More music videos and exciting projects are on the horizon, promising a musical journey that's far from over.
Stay Connected with 100it
For those eager to follow 100it's journey and explore his music, connect with him across various platforms:
100it EPK: Official Website
In conclusion, Troy Stokes, aka 100it, is a dynamic artist whose music journey spans over two decades. Rooted in a legacy of hip-hop culture and inspired by industry giants, he's redefining the music scene. With a commitment to hard work and a multifaceted approach to artistry, his future looks as promising as his past is inspiring.