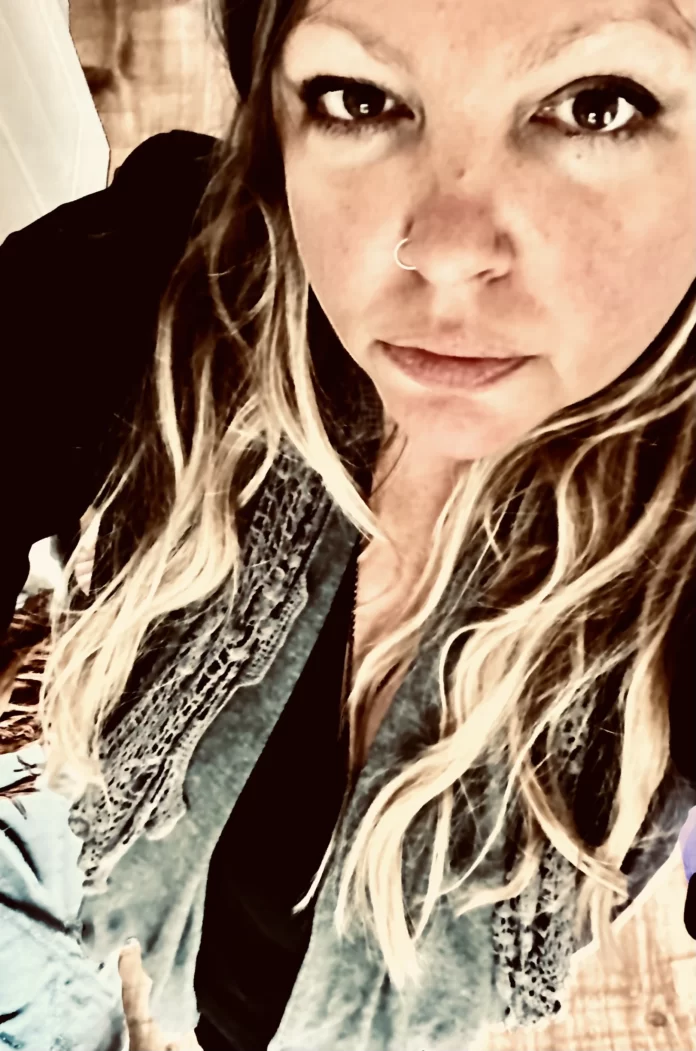 "PAST THE WOLVES" ON AN INFECTIOUS NEW SINGLE AND PROVOCATIVE VIDEO
Though there's no historic placard on the site marking her birth as there is for John Lennon, it's a point of pride and cosmic serendipity that singer/songwriter Keri Kel was born in the same Liverpool hospital – Liverpool Maternity Hospital on Oxford Street – as the legendary artist. It's only fitting then that, in her fascinating, twist and turn filled, ever-evolving career as lead singer/songwriter of Keltrix, the Cambridge based artist has enjoyed some wild shape-shifting musical adventures and freewheeling sonic retooling much like the Beatles did in their time.
Starting off as folk dub rock outfit featuring violin, Keltrix picked up steam as a UK festival favorite for years before Keri changed to a live electronic vibe with a DJ complementing the musicians. The current incarnation of the band – featuring a former bass player and guitarist in addition to second guitarist Jay Williams of The Broken Family Band – finds them moving in what she calls a "bohemian rock" direction and running defiantly "Past the Wolves" on their haunting, hypnotically infectious new single. The track will be the title song on Keltrix's upcoming full-length album, the band's follow-up to 2021's Herstory and sixth overall. Keri is signed to U.S. based Bentley Records.
To illustrate the intensity and energy of the tune, Keri and local Middlesborough artist Andy Little (A Little Struggling Artist) created a compelling black and white lyric video featuring her in a forest and fast paced, sometimes spinning movement through brush and trees to share the sense of danger those unseen wolves present. She gave the close-up and distant images of herself to Little and he created the eerie and dangerous visual excitement around her.
"Running past the wolves is a saying I have always liked and referred to as it pertains to many life and career circumstances," says Keri. "You can throw me to the wolves but they'll come when I call. In some sense, it's referring to a group of people you should be able to trust more than anyone and feel safe with, but who turn out to be the worst possible folks whom you can't trust or rely on. They'll metaphorically throw you to the wolves but in the end, you'll be alright because you can transform into the wolf. As a songwriter, I like to take dark events and turn them into art with a sense of light and hope, take the negative, smash it up and smash light into it. Throughout all the musical re-invention, as a songwriter I've always enjoyed delving into areas of life people don't like to talk about, shedding light on taboo subjects."
Over the years, in addition to playing at popular indie festivals including Bestival, Secret Garden Party, Boomtown Fair and the legendary Cambridge based Strawberry Fair, Keltrix has opened for influential British bands like Dreadzone, Wonderstuff, Levellers, Crass and Alabama3. Radio highlights include appearances on BBC Introducing (BBC's platform for unsigned, undiscovered and under the radar UK talent), and regular appearances and co-hosting shows on Rebel Arts Radio and Camb 105 FM. With various tracks from Herstory hitting the shortlist for potential licensing by Netflix blockbusters and advertising opportunities, Keltrix was recently added to the roster of One Night Stand TV/music management.
"Another way to interpret 'Past the Wolves' is that you've somehow hit rock bottom in life and now you're climbing out of that crevice and making your way up a mountain, overcoming your fears, finding your feet and embracing the pain and letting it go so you can find better days ahead. I've been down myself and seen many survivors of abuse turn their lives around, so the possibilities for redemption are always there. I feel like in many ways, my seven-year-old daughter saved my life. She's the ray of sunshine that gives me hope, along with animals and nature. So much of the world is rubbish, but there is also so much beauty out there."
The anticipation is building as Kel gears up to release "Last Light," the second single from the forthcoming album. This powerful track, set to debut this August 2023, promises to showcase the artist's continued evolution and mastery in music. With the unique blend of lyrical depth and melodic innovation that fans have come to expect, "Last Light" is more than just a song; it's a statement, a moment in time, capturing the essence of what makes Kel a standout artist. Mark your calendars and stay tuned, as "Last Light" is sure to illuminate the music scene and take listeners on a captivating journey.