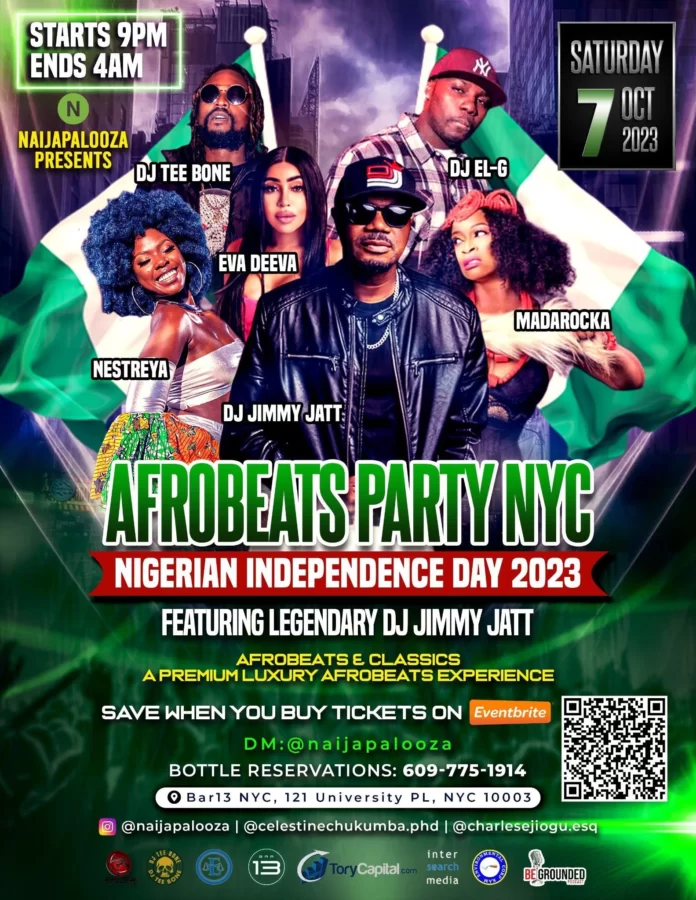 NYC's Afrobeats Celebration: NaijaPalooza with Nestreya, Jimmy Jatt, Tee Bone, and the Arrival of Madarocka!
October 7th will not be just another Saturday. After the vibrant Nigerian Independence Day parade concludes, the real heartbeat of the celebration starts pulsing, with the infectious rhythm of Afrobeats enveloping New York City. Dominating the stage are the legendary DJ Jimmy Jatt and NYC's sensation, DJ TEE BONE. The Nigerian Independence Day Party Event NYC spotlight will also gleam on the mesmerizing Nestreya. And to spice things up, the "Queen of Afrobeats Hip Hop" herself, Madarocka, is joining this star-studded lineup.
DJ Jimmy Jatt: Nigeria's Legendary DJ Crafting Sonic Waves
DJ Jimmy Jatt, a true connoisseur of Afrobeats, is akin to the pulse of the genre itself. With collaborations featuring the likes of Wizkid, Burna Boy, and Mr. Eazi, he promises to weave a magnetic tapestry of sounds that whisk you away into the night.
DJ TEE BONE: NYCs Master of the Afrobeats Mosaic
TEEBONE will be there, sprinkling the deck with a mix of timeless classics and contemporary Afrobeats bangers. From the streets of NYC to international arenas, his sets are a vibrant celebration of Afrobeats journey.
The architects of NaijaPalooza, Dr. Celestine O. Chukumba and Charles Ejiogu, Esq., envision a night where melodies flow and feet can't stop moving. "With Jatt's deep beats and TEE BONE's eclectic style, attendees are in for an unforgettable night," asserts Dr. Chukumba.
"And let's not forget, with Madarocka now in the mix, it's going to be electric!" adds Ejiogu excitedly.
Nestreya: The Afrobeats Rising Star
As Nestreya steps into the spotlight, the atmosphere will undoubtedly electrify. With a resume flaunting collaborations with big brands and features on prominent platforms, her performance is eagerly anticipated.
Madarocka: The Queen Joins Nigerian Independence Day Party 2023
Adding to the night's allure is Madarocka, the renowned "Queen of Afrobeats Hip Hop." Fresh off a remix of "Jaga Jaga" with Eedris Abdulkareem, she embodies the spirit of early Afrobeat music, offering a nostalgic yet invigorating experience for all attendees of Nigerian Independence Day Party NYC.
Nigerian Independence Day Party 2023 NYC Event Details:
Date: Saturday, October 7th, 2023 – After The Parade
Location: Bar13, Manhattan, NYC
Time: 9pm to 4am
Tickets: $50, available on Eventbrite for the Nigerian Independence Day Party Saturday, October 7th
This Nigerian Independence Day, immerse yourself in a night where Afrobeats' past and present collide in a spectacular celebration. Grab your tickets, let the music take control, and be part of a night written in the stars! 🌟🎶🎉