Written by Randall Stone
2022 was a productive year for artists that spent their last couple of years on downtime, thanks to the COVID-19 Pandemic. But as most of them used the Pandemic to work on and perfect their art, these albums are some of the best examples of 2022's most unique and quality releases of any genre. I would typically do a top 20 list; However, it does not matter how productive the artists of the world were in 2022 because most of the albums I heard last year were not worthy of a tier list. As it goes, I was able to pull together 16 albums that were released between January 1st and December 31st of 2022 that truly saved the year for artists everywhere, and the audiences that listen.
Since I pulled 16 albums together for this list, I only intend to make this a top 15, I will start by cheating. Sneaking the 16th album in the list as an honorable mention might make it pointless for me to call this a top 15, but how could I possibly leave out the latest album by Red Hot Chili Peppers? Especially when the album was much better than anyone could have anticipated. The album, UNLIMITED LOVE, was released in April, followed by another album in October called UNLIMITED LOVE: RETURN OF THE DREAM CANTEEN. Although Dream Canteen was a decent release, it is no contest as to how much better the April album is. Zany, funky, and quite groovy instrumentals, with Flea's bold bass lines shining through as always. Anthony's vocals almost blend perfectly into this messy, psychedelic funk tune. The song "Eddie" is by far the best song on this album, that Frusciante solo was phenomenal, and the fuzziness of the entire bridge struck me as the good old Red Hot Chili Peppers that everyone remembers and loves from the 90s and early in the new millennium. Yes, it is a wonderful album and I recommend it to everyone that has a taste for rock, funk, or psychedelia or is just into good music in general. Whether you're a Peppers fan or not, this album is worth a shot. But guess what ….there are at least 15 albums from 2022 that are even better. So get your streaming platform of choice ready and dive right in.
15. "LAUREL HELL" by Mitski
"Laurel Hell", (which BTW is about Laurel Canyon, CA). I need to repeat this for our Florida friends and family, though through no fault of their own, don't know that topography out west, Mitski Miyawaki is a Japanese-born American singer-songwriter. Mitski self-released her first two albums, "Lush (2012)" and "Retired from Sad, New Career in Business (2013)", while studying studio composition at Purchase College's Conservatory of Music. These albums were created originally as her senior project at Purchase. Mitski, first and foremost is a pop/rock singer, as eloquently seen in her previous album "Be the Cowboy". I think that if you'll listen to this album a few times, it certainly doesn't deserve the low ratings people seem to give it. I don't understand it at all. Miyawaki sings in several languages and is a University student on many levels and you can easily tell by her lyrics that she is very well-educated. You see, a new breed of pop/rock singers is present (those that have brilliant lyrics that make you think). (Hello, "Bob Dylan" anyone?) Okay maybe they aren't quite on Dylan's level of perfection, but her lyrics are 95% of the reason why this album cracked the top 15. If that doesn't spark your interest, then I have failed!
BEST SONGS: "Working For The Knife", "Stay Soft", "Love Me More" and "Should've Been Me"
RATING: 70%
14. "WET LEG" by Wet Leg
The wet leg is a duo I haven't been focusing much attention on, but I've seen them around a lot. Surprisingly, though I haven't listened to any of their material, before this review of course. Is this group an industry plant, or are they a legitimate duo who want to make music together? I don't know, nor do I care too much. It's okay as long as the music is decent, right? Is the music any good? It's Wet Leg's lucky day because the music is… pretty damn great. If I was already suspecting this duo to be an industrial plant, my hopes weren't high. But, I did enjoy what I got, and for the most part, it's pretty close to being one of those albums that you just can't skip a single track. This album is incredibly catchy and gets stuck in your head, as it has been stuck in mine a lot. Songs like Angelica and Ur Mum are especially fantastic highlights and showcase the potential the duo has. The lyrics aren't anything profound or incredibly intelligent, but they don't need to be because the songs themselves are just so goddamn catchy. Think The Ramones level of catchy, but modern …oh, and not punk. The two songs I mentioned are the best examples of everything that makes this duo great. This is not to say that the rest of the tracklist isn't catchy, because it is, but some tracks seem to tower above the others.
BEST SONGS: "Angelica", "Ur Mom" and "Wet Dream"
RATING 74%
13. "THE CAR" by Arctic Monkeys
Their previous album, "Tranquility Base Hotel Casino," was inspired by ideas that have evolved and been more realised on "The Car." Back-to-back albums confirm that this is now a chapter of sound in the career of arctic monkeys. I found TBHC a challenge and have to admit I never fully got into it but with "The Car", I'm much more on board. With the exception of a small drop in the middle, it is very constant. The style is a real throwback to the age of lush psychedelia but with the band's unmistakable take. While "The Car" can hardly be called a classic album, the band has long outgrown their original audience and the audience they gathered as they went.Based on the diversity of ambition and success throughout their prior work, they are now ranked among the top players.
BEST SONGS: "I Ain't Quite Where I Think I Am", "Jet Skis On The Moat" and "Perfect Sense"
RATING: 74%
12. "SONG OF SALVATION" by Dream Unending
"Song Of Salvation" is a bright, psychedelic & atmospheric exemplar of how a Post-Death/Doom album should sound. If the core can be found in the -more or less- classic song structure (for the genre), Dream Unending expands & widens its sound scope, adding original elements to transform this aural experience into something unique & basically in opposition from the current cavernous & suffocating tendencies. Long and dilated leads and solos with psychedelic vibes and subtle dissonant touches, slow and expansive ambient intros, liquid and reverberant guitars with psychedelic vibes and disharmonic touches, and of course some canonical Death/Doom passages with deep growls and occasional outbursts I think to Mournful Congregation "white album"). But also in these most disruptive moments, everything seems to be surrounded or cloaked by It's quite impressive how Dream Unending created a second album that can stand on its own, but that started where its predecessor ended.
BEST SONGS: "Song of Salvation", "Secret Grief" and "Ecstatic Reign"
RATING: 78%
11. "A LEGACY OF RENTALS" by Craig Finn
Craig Finn reaches solo album number five, and factoring in his Hold Steady output, this talented songwriter is one of the more prolific talents of recent times. Perhaps slightly less engaging as solo albums 3 and 4, but for sure there's much to admire and enjoy herein. It's just a case of concentration, and for sure the arrangements/production is a little more complex than what has come before.And this is the most spoken-word music Craig has ever created. Sadly, as I imagine for most of us, concentration is a major challenge these days, there's just so much going on, so much distraction, etc. But this for sure is a welcome album for those that can give it the attention it deserves, and it speaks to all of us who enjoy and appreciate intensive lyric writing, and that all-American charm.
BEST SONGS: "Messing With The Settings", "Amarillo Kid", "Due To Depart" and "This Is What It Looks Like"
RATING: 81%
10. "EXPERT IN A DYING FIELD" by The Beths
With this album, The Beths simply play music that is basic rock n roll—2 guitars, bass, and drums—filling a need in the modern music scene for old-fashioned rock n roll. I'm very glad it exists and it's a breath of fresh air, whether is power pop ("Best Left", "Expert in a Dying Field" whose chorus will stay in your head for days ), melodic Tom Petty style mid-tempo songs ("Knees Deep", "A Passing Train"), or more punky and super friendly tunes ("Silence is Golden", "I Told You I was Afraid"). There are also plenty of good ballads that walk the line between mainstream pop or with a The Beatle's influence ("Your Side", accurately named closer "2 AM"). The band also has some brilliant lead guitar tracks, where the riffs seem to jump out of nowhere to shock you. It's possible they could have left off a track or two and had a stronger record, or perhaps increased the length of some of these tunes. The album's best song, "When You Know You Know" sums it all up sounding like a leftover from the originators of indie pop, New Zealand's The Bats. With this album, The Beths brought joyful, hopeful music back to the forefront of 2022.
BEST SONGS: "Knees Deep", "Silence Is Golden", "A Passing Train", "Best Left" and "Expert In A Dying Field"
RATING: 82%
9. "MOST NORMAL" by Gilla Band
This album's rebelliousness can probably be surmised from the title, and look at the label, Rough Trade, from which I can conclude: it's cool music for youngsters, inevitably. Using random rhymes and fractured narratives combined into a sense of oppressive absurdity and humor, the readings contain observable insinuations (suburban stigmata), hysteria (a kerfuffle with the psycho muscle), rebellion, and cynicism (give dirty looks to ppl who read books), which may not be efficacious enough but should be thunderous. There is some relatively rare high-frequency noise filled throughout, which is easy to stun people's brains outta nature (The last time I encountered some personally impressive high-frequency was at the very beginning of Yank Crime's T2. I played it by Bluetooth in a taxi, and it successfully annoyed my driver).Although the album's brokenness is complemented by the multi-layered noise tide, the post-punk-like percussion here sound too repetitive in terms of sound structure and progression, and I only really appreciate the turbo-like portion of the noise portion. Nevertheless, despite the unique genre labels, it's a quick pleasant contact.Sometimes we just need this shattered music. Even the vocal here sounds cleanliness-fixated as hell, and this makes me feel like I'm still young and fervent.
BEST SONGS: "The Gum", "Backwash", "The Weirds" and "Almost Soon"
RATING:87%
8. "HELLFIRE" by Black Midi
Black Midi is unquestionably a band not to be overlooked. Formed in 2017, they released their third regular album last year, and perhaps it best realizes what the band has in mind – frenetic music that sounds like a soundtrack, but to a movie that hasn't been made.
This time, the catchphrase is "Welcome to Hell," and you are immediately thrust into a state of musical limbo where the music shatters and dissolves like melting memories one last time. The associative lyrics are narrated by a morally questionable character, which maintains a kind of Brechtian distance from this underworld that pulls you in like a dog. It is a lurching forward world, a nightmare circus full of punk, Vaudeville, prog rock on steroids, and jazz quotations. The listener is whipped by attacks, then invited to rest for a moment, until the next rush begins. Contrary to predictions, the kaleidoscope does hold, and once you become engrossed in this journey, it won't let you go. As soon as you attempt to turn away, Black Midi pushes you back in the chair. The entire thing is an impressive musical performance that is absolutely not appropriate for background music.
BEST SONGS: "Hellfire", "Eat Men Eat", "Still", "Half Time" and "27 Questions"
RATING: 89%
7. "RENAISSANCE" by Beyoncé
Presented like a genuine club set, with each track melting into the next – just like a DJ mix. Renaissance is both an ode to her fans and the disco canon.By this point, we are aware that her verses are relentless and oozing with confidence and poise, like being rocked by velvet gloves.Beyonce's self-prescribed superiority is practically an expectation, but this album isn't even about her. The amplification of the listener's self-esteem isn't corny, it's genuine. Even though her arrogance is self-aware, it turns into a package for the fans; which is what's so fun about the album – Beyonce's self-prescribed superiority is practically an expectation, but this album isn't even about her, it's all about you. Another win for Beyoncé.A good-quality dance album with lots of fun songs.The production goes off and the transitions between tracks are seamless. Honestly, though, no album of this mold needs to be over an hour long. No doubt this would have been even stronger if a few tracks were cut and the run time was closer to 45-50 minutes, but considering I have never considered Beyonce to be an artist of interest for me, this album is truly something special. It caused me to look at Beyonce in a whole new light. Special thanks to my wife for persuading me to give this album a chance!
BEST SONGS: "Cozy", "Alien Superstar", "Cuff It", "Break My Soul" and "America Has A Problem"
RATING: 90%
6. "RUNNING WITH THE HURRICANE" by Camp Cope
Camp Cope spent good portions of their first two albums brawling with sexism in the music industry, their insecurities, and relationships that seemed to inevitably fall apart. On their newest album, the heartache remains, but there is a sense that CC is no longer clawing for their place at the table. A way off from satisfaction, perhaps, but there's a breeziness to this album that simply wasn't present on previous releases. This is demonstrated in their new melodic sensibilities. Georgia Maq's vocals have always been the center of the band: teeth-bared snarl, a howling rallying cry, or a bloodied veteran depending on the case. Now, she seems to have picked up some new influences; Taylor Swift and Natasha Bedingfield are immediate, pop comparisons, but there's most definitely influence from alt-country darlings ala Gillian Welch as well. The lyrics follow these comparisons: the big hooks on jealous, blue, and the title track all pack the exact pop punch you'd expect from those previously mentioned artists; whereas the narratives on Caroline or The Screaming Planet demonstrate a deeper, more evocative storytelling from the band. It can feel a little repetitive in the second half, and nothing else reaches the giant hook on Blue. Still, this a comforting, melodic album that is 100% the best thing the band has released to date.
BEST SONGS: "Caroline", "One Wink At A Time", "Blue" and "The Screaming Planet"
RATING: 90%
5. "DRAGON NEW WARM MOUNTAIN I BELIEVE IN YOU" by Big Thief
Big Thief's abilities are showcased in "Dragon New Warm Mountain I Believe in You" in a variety of ways. The band is very skilled at changing their styles. Indie rock, folk, and alt-country tracks appear next to each other without feeling out of place. Lenker adds a lot of charm and personality to the songwriting. It's elevated by little quirks such as strange-sounding yelps or comedic displays of enthusiasm. This is another one that's been big in music circles as album of the year, it was even nominated for a Grammy. I can see why people say this is the album of the year… and I agree that it is one of the most impressive albums of 2022. With 20 songs running by in 80 minutes, Only one of them was …meh. This album is no joke, it's unbelievable that Big Thief can maintain this sort of quality for the amount of time they have. Songwriting is great, instrumentation is varied without straying too far from the folk roots… they got everything right. What made me fall in love with this is how it made me feel: it gave me a warm, bright feeling that I don't find myself getting all that often out of music. It's one of the most enjoyable listens I've had in a while & it's accessible, I think everyone who hears this is going to love this. It isn't a perfect album by any means, but it is an album you will want to hear again and again …..and again.
BEST SONGS: "Little Things", "That's my Grandma" and "Red Moon"
RATING: 94%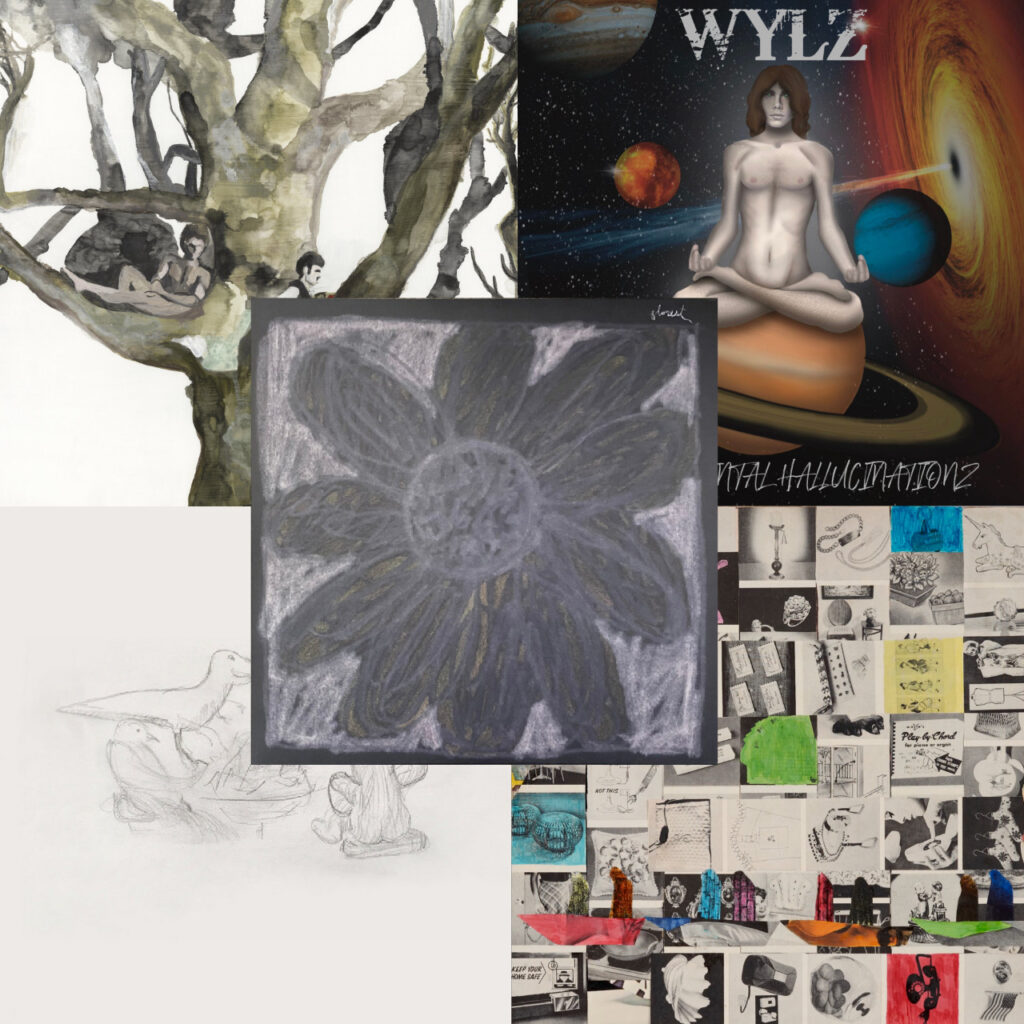 4. "TRANSCENDENTAL HALLUCINATIONZ" by Nate Wylz & Soundz/WYLZ
I'm willing to bet that 99.99% of you have yet to be fortunate enough to hear this band. Maybe even 100% of you. They stormed onto the LA underground scene in 2018 with their impressive debut, VISIONZ. Sure that was a wonderful album that gave the band a cult following that they surely deserved. But TRANSCENDENTAL HALLUCINATIONZ, their follow-up album, is an absolute masterpiece ..and I don't give that label lightly. This 19-track, two-hour-long master class of music is something that must be experienced in its entirety. With 3 spoken-word poetry tracks, 14 songs that cover a wide range of genres (Alternative, Hip Hop, Punk Rock, Heavy Metal, Psychedelic Rock, Pop, Hard Rock, Classical, Soft Rock, Blues, and some songs seem to blend multiple genres in one. Not to mention a couple of tracks that have a genuine classic rock vibe). With this daring multi-genre gem, you'd expect the transitions from one track to another to sound off, but with the band's unique style, it all comes together beautifully. Then there is a capella track that has the lead singer vocalizing all of the instruments. But by far the best song of the album is the 36-minute long "Ozzy Dunn: Wasteland"; a story following the character Ozzy Dunn from birth to a dark twist of an event in his teenage years. I could write an entire review of this song alone. The album's lyrics alone are something to behold; full of complex philosophical themes, dark humor, existential ponderings, deep explorations of identity, consciousness, purpose, creativity, loss, love, pain, and much more than I can even list! Its as if the lyrics were written to entertain the listeners, express opinions and beliefs, explore their own identity, artistry, and positions on various topics, educate the audience by challenging their beliefs and opening their minds, and even push the envelope of controversy with lyrics that are anti-religious, extremely sexual, visually graphic violence and more. You can even hear morse code in the background of one track, as I have also noticed the skillful deposit of hidden messages throughout the album. The lead singer's voice is unique, driven, and emotional as he delivers his lyrics quite unlike any vocalist I have ever heard before. The band changed their name from "Nate Wylz & Soundz" to the much shorter "WYLZ". This change came immediately after the album's release, which caused it to see a release under both band names. This album is an experience with no equal, no twin. A huge step up from their debut, I will be on the lookout for their next release.
BEST SONGS: "Ozzy Dunn: Wasteland", "Weary", "The Centipede", "Dimension Zed", "Faking It" and, "You Said"
RATING: 97%
3. "TIME SKIFFS" by Animal Collective
Everything that I've ever wanted out of an Animal Collective album and a flawless synthesis of everything I've loved about their sound throughout their career.The greatest of their experimental tendencies from their "noisy racket" period (Spirit They've Gone through to Strawberry), the humanity and hooks of Merriweather and Centipede, and the increasingly geologist-led underwater dubby textures of their unfairly underappreciated late time (Tangerine Reef, Meeting of the Waters &c). Somehow both their jammiest album and they're most tightly written, all of the expansive experimental promise and thrill of their live jamming shaped and honed into the bridges and especially outros/transitions.flawlessly crafted and mixed, revealing deeper layers and new nuances with each listen. It's tempting to view every album of the past two years through the lens of the COVID pandemic, whether it's due to artists using that as the framework to speak about different issues (cf. Earl's SICK!) because pandemic conditions lead to such an outpouring of great art in recent times out of necessity, or just purely out of either a listener's need to project their own experience upon the art they're discussing (and I have been plenty guilty of both over this interminable decade). I haven't done too much digging in the press about this album, so if this was all written years prior and had nothing to do with the pandemic hell world, I'm unaware. But just based upon the music and lyrics presented, this feels like it is speaking uniquely about the current day, offering a comment on the past two years of struggle and death but more importantly offering a message of enduring community and hope.Not simply in the codas of "Prester John" or "Strung With Everything," which serve as cathartic moments (the most hopeful moments seem to be in the outros and codas, songs structured like revival meetings or journeys through long nights culminating in brilliant daybreak). but rather in the songs' overall brilliant textures and tone. This CD has been a source of inspiration for me on many trying early-morning commutes to work when I felt incredibly low on the human spirit. It exhibits incredible skill, empathy, and patience. One of the best albums of one of the best musical years I can remember, and their best work.
BEST SONGS: "Dragon Slayer", "Car Keys", "Walker", "We Go Back" and "Royal and Desire"
RATING: 98%
2. "LABYRINTHITIS" by Destroyer
The greatest Destroyer release in at least a decade, Laberynthitis seems to combine the majority of the styles he's experimented with since his underappreciated 2008 album Trouble in Dreams, which was heavily focused on guitar, into a compilation of 10 almost all-great songs that are coherent and consistent.One could argue that the record feels similar to his 2011 solo breakthrough (at least in terms of the critical adoration) Kaput, but aside from a few plus-six-minute tracks featuring a bit of tasteful horn-play, the album's sound certainly flows quite a bit differently. Opener "It's in Your Heart Now" is a fairly slow-burning but using motif of kinds that opens the album in a hectic trance, however the following track "Suffer" feels loaded with ideas, shards of father hooks, and lyrical depth. "June" is every other gleefully wordy highlight, recalling a number of the greater interesting moments of 2017's Ken. Tonally, it is a splendid file, however lyrically he is as cryptic as ever matching traces of natural cynicism with heartfelt romanticism or maybe natural silliness. The stomping digital percussion turns "Tintoretto, It's for You" into some thing nearly menacing, recalling a piece of the darker moments of the 2020s Have We Met, albeit a piece greater forcefully, and "It Takes A Thief" speeds matters up in a manner we have got virtually but to pay attention from a Bejar solo file in almost 15 years. Oppositely because the file attracts closer to a close "The State" is every other standout that gives greater area for his aggregate of digital and acoustic instruments, at the side of softly delivered (but nevertheless cryptic as can be) vocals for a form of come-down that also manages to be thematically interesting and a piece uplifting, even in its nearly ambient second-third.Even the instrumental title track is a joy on the ears, even though its emotional tone is anything but obvious (much like the title itself), and the sparse acoustic closer is as stripped down and vulnerable as he's sounded in years, if ever. It's just a great Destroyer record, and while it lacks the explosive pop highs of many of his earlier 2000s classics, that's completely understandable when taking in his incredibly interesting musical journey in the years since. It seems to finally nail what he's been attempting, or possibly searching for, since the strange success of the aforementioned now-classic Kaput. It won't immediately blow new or old listeners away, but it also unveils its virtues and charm surprisingly quickly, offering many reasons to return again and again. Where he goes from here is anyone's guess, but Laberynthitis is a thoroughly entertaining and exciting album worth a spot in any of his fans' collections, regardless of their take on his last 10 years of musical exploration. Without repeating a decade of musical exploration, which doesn't seem like something he's likely to do, where he goes from here is anyone's guess. And those new to his music may find the record even more rewarding; listeners won't find any moments ala "Dark Leaves Form Her Thread" that prompt rolling down the windows and shouting along, nor does it want to rest solely in the head, defining it may be futile, but it sounds marvelous.
BEST SONGS: "Suffer", "June", "Tintoretto, It's For You" and "It Takes A Thief"
RATING: 98%
1. "FLORIST" by Florist
I was lucky enough to spend my first few listens to Florist in a similar environment to the one in which the band recorded the album.while residing in a quaint, old lake cabin on Lake Thomas' northeastern shore in Washington. The most recent Florist album served as a soundtrack for the nights I spent there, playing in the background as I chatted with family or meditated on the dock next to the dark lake. In those moments, Florist's vision for their self-titled fourth album was crystal clear: the way I was listening to it uncannily mirrored the way they made it, letting the music develop naturally in the pauses between preparing meals and watching the rain as they embraced songcraft more organic and untethered than the intricate introspection that served as the foundation for their earlier works. With less pressure on them to always have something to say, Florist's ambient folk world comes to life with brilliant color and ephemeral moments of found sound and improvisation. I'm certain it helped that I were given to deal with myself to the equal non violent environment Florist did even as crafting those songs, however there is an simple generosity to Emily Sprague's minimalist songwriting and the band's serene instrumentation that roots itself deep to your coronary heart regardless of in which you are.The only description of Florist's magical sound is a mix in their preceding album's sensitive peoples rock with the non violent earthiness of Sprague's solo digital work, the numerous wordless songs, and ambient comedowns after every predominant tune contributing to the album's feel of closeness and clarity, capin a position to mention matters and conjure emotions the band by no means ought to withinside the past. Right from the start, with the 3 mins of June ninth Nighttime which include a repeated guitar loop with rippling synths and a quiet bassline surrounding it, the chirp of bugs out of doors their domestic sitting proper at the pinnacle of the mix, Florist establishes its cush and welcoming sound, clean to pay attention to or even simpler to fall in love with – the reality that most effective 9 of the album's nineteen songs have vocals make it clean that this is not a normal day trip for a lyricist as considerate and complete of thoughts as Sprague. It's the form of album that works fine listened to in a single complete go, a lot of those songs most effective completely making feel subsequent to each other as a reaction to the washes of grief that bloomed her devastating solo day trip Emily Alone, Florist designed to be a development at the narratives of loss and restoration that focuses much less on intense, heartbreaking songwriting and extra on new views and methods to examine the arena that may be simply as emotionally gripping. She sets up the story of her mother's death in Red Bird Pt's If Blue Could Be Happiness 2017. over there. 2 (Tomorrow) told in some stunning vignettes from her father's perspective:
How his thoughts might have taken her mother to the hospital the winter morning before she was born, a heartbreaking moment sharing memories of her now-deceased mother ("I can only see the brilliance of memories/and Seeing only the emptiness of our vision "Where am I?" Sprague sighs quietly). Looking at the thoughts that normally fill the entire lens of florist songs, the vastness of these songs slows down time, giving you an even deeper connection to the artistic process and the immense amount of love that goes into it. .
Though interludes outnumber the number of actual songs here, the murky surface of Florist allows the brightest moments to stand out more than ever. Sprague has always been a lyricist who can use only a few lines to make a huge impact, and with Florist's looser energy, those grounded moments where she hangs on a single phrase and pulls all she can from it cut deep into your soul: how the band sings "You're not what I have, but what I love" over and over again to one another on Sci-Fi Silence or the couplet chorus of "We had a home once, what a funny thing / We had a home once, there were fireflies" that makes a simple, but the incredibly evocative image of family and how we carry it in our minds.Their instrumentation is similarly stripped down, and the extra space in the mix is ​​replaced by the serene horns stitched into the reflexive waltz of Spring in Hours and the blazing 43 that threatens chaos without ending the song. Make way for new textures such as the guitar solo in . , but the way Sprague settles down to just vocal harmonies and acoustic guitars on "Organ's Drone," or how bandmate Jonny Baker closes out the album with the aptly titled "Jonnie on the Porch," shows him on aching electronics. accentuates the festive saxophone improvisations, creating a serene atmosphere. But the ferocious effect album ends exploratory and subtle, meaning Florist can always go as big or small as he pleases.Every moment of the album is soothing and deeply life-affirming, from the short but stunning Duet for Guitar and Rain to the three ethereal "Bells" interlude that help set the mood for different parts of the album – the first leading into some of the album's darker tracks, the second into its most sprightly and upbeat, the third its dreamiest as the album comes to a close – Florist is an album designed for you to open up entirely to and get the most out of every feeling it brings to you. They've spent their careers exploring together, but Florist sees the four people who make up the band coming together to make their most freeform and spiritually potent project to date, an album where part of the fun of listening to it is getting a deeper look into their process and what matters most to them. Their gentle, cloudy songs materialize sorrow and recovery in ways no other band can, and Florist's sprawling tracklist lets them touch base with every emotion without having to pick and choose which can stick around. All the little disruptions, an ambient piece followed by another short interlude or a plaintive folk song nestled between two short, peaceful instrumentals, are what make Florist such a precious, emotive listen, the quartet magnifying the smallest bursts of energy and inspiration and learning to capture those flickers of light in the darkness. Florist's intuitive, tactile sound positions the band to try things they've never done before, to open themselves up to sights and stories they never have before, the results both deeply moving and strikingly innovative, Florist's detour into the forest blooming their most organic and vibrant outing yet in the decade they've spent so close to one another's hearts. Contrary to popular opinion, FLORIST is the #1 album of 2022. If you disagree, please try again. So next time, please listen carefully. No distractions. Complete, undivided attention. do not regret!
BEST SONGS: "Finally", "River's Bed", "43", "Spring In Hours" and "Red Bird pt.2 (Morning)"
RATING: 100%