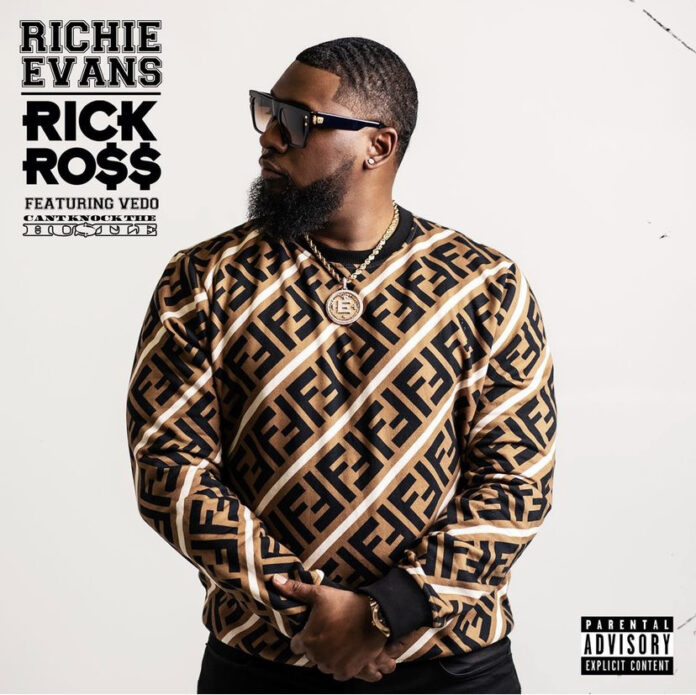 Rick Ross, also known as "The Boss," is a well-known rapper, entrepreneur, and record executive hailing from Carol City, Florida. Since his debut in 2006, Ross has been a prominent figure in the hip-hop industry, with over 10 studio albums to his name. His music often features tales of his past life as a drug dealer and the lavish lifestyle that followed his success in the music industry. Ross' latest release, "Can't Knock The Hustle," features his friend and collaborator, Richie Evans, and is a tribute to their shared experiences as hustlers.
Evans quickly gained notoriety for his gritty lyrics and his business acumen, which allowed him to turn his hustling skills into a legitimate business.
Evans and Ross first met in 2013 when Evans was on tour with his mentor and friend, DJ Self. Ross, who was impressed with Evans' skills and business acumen, reached out to him to discuss potential collaborations. The two began working together in 2014.
First Single of Richie Evans
"Can't Knock The Hustle" is the first single from Evans' upcoming album, "RE Loaded". The song features Ross' signature deep voice, with Evans' gritty verses weaving tales of the hustling lifestyle. The track is produced by frequent Ross collaborator, Beat Billionaire, and features a sample of Jay-Z's classic track, "Can't Knock The Hustle."
The song is a reflection of the shared experiences of Ross and Evans, both of whom rose from the bottom to become successful entrepreneurs. Ross' lyrics tell the story of his past life as a drug dealer, highlighting the risks and rewards of the hustling lifestyle. Evans' verses are similarly introspective, reflecting on the challenges he's faced on his journey to success.
Throughout the song, Ross and Evans emphasize the importance of hustling and working hard to achieve one's goals. The chorus, which repeats the phrase "Can't Knock The Hustle" several times, is a nod to Jay-Z's original track, which also emphasizes the importance of hard work and determination.
Despite the song's focus on hustling and the gritty lifestyle it entails, Ross and Evans also acknowledge the negative consequences of that lifestyle. Ross raps about the dangers of drug addiction and the importance of staying focused on one's goals. Similarly, Evans reflects on the
challenges of maintaining relationships while hustling, highlighting the sacrifices he's made along the way.
"Can't Knock The Hustle" is a testament to the resilience and determination required to succeed in the music industry and in life. Ross and Evans' shared experiences as hustlers have brought them together to create a track that reflects the highs and lows of the lifestyle. With their combined talents and business acumen, Ross and Evans are poised to take the industry by storm with their upcoming album, "RE Loaded."
Does the song "Can't Knock The Hustle" have the potential to be a chart-topping hit?
It can be predicted for this hit! There are so many reasons for that:
Firstly, Rick Ross is a well-established and highly respected figure in the hip-hop industry. He has a loyal fanbase who eagerly anticipate his releases, and his music consistently performs well on streaming platforms and in album sales.
Secondly, the collaboration with Richie Evans is likely to generate significant buzz and attention. While Evans is not yet a household name, his skills as a rapper and entrepreneur have earned him respect in the industry.
Thirdly, the theme of the song is highly relatable to many people, as it celebrates the hustle and the rewards that come with hard work and determination. This message is likely to resonate with a wide audience, particularly those who have overcome adversity and worked hard to achieve their goals.
And Finally, the track's production and sampling of Jay-Z's "Can't Knock The Hustle" add to its appeal, as it pays homage to a classic hip-hop track while also adding a modern twist.
Overall, "Can't Knock The Hustle" has all the ingredients of a potential hit song. With the combined talents of Rick Ross and Richie Evans, a relatable message, and strong production, it could very well break records and become a chart-topping hit.
If you're a fan of hip-hop, or simply appreciate the hard work and dedication that goes into achieving success, then you won't want to miss out on Rick Ross and Richie Evans' latest collaboration, "Can't Knock The Hustle". With its catchy beat, powerful lyrics, and inspirational message, this track is sure to become a fan favorite and a chart-topping hit.
» Publicity inquiries for "Richie Evans" please contact: Misty Blanco via The Misty TV Firm Corporation via email: themistytvfirm@yahoo.com Instagram IG: @mysterious_mistyblanco
For All Booking Inquiries please contact "The Evans Administration" via email: info@teathelabel.com
Instagram IG: @theevansadministration Richie Evans Instagram IG: @whoisrichie