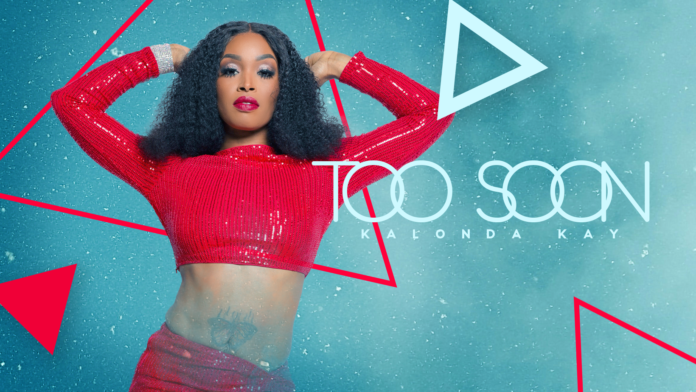 Introduction
Experience the incredible talent of Kalonda Kay, an emerging star from St. Louis, as she captivates the music scene with her latest single, "Too Soon"! This sensational track, co-written and produced by the exceptionally talented Joe "Capo" Kent, effortlessly channels the smooth, mellow vibes of the 90s, making it an essential addition to your summer playlist. Notably, Kalonda Kay's "Too Soon" not only showcases her mature and infectious musicality, but also accompanies a visually stunning music video that perfectly captures the nostalgic essence of the 90s era.
A Captivating Storyline and Nostalgic Vibes
Transport yourself to the enchanting world of Kalonda Kay's "Too Soon" music video, where a charming and flirtatious encounter unfolds at the skating rink. With meticulous attention to detail, the video flawlessly recreates the energy and ambiance of the 90s, creating a sense of nostalgia that perfectly aligns with the song's catchy rhythm and relatable lyrics.
Set in Kalonda's hometown of St. Louis, the music video was filmed at a popular skating rink and features Kalonda and her friends engaging in playful and energetic interactions. The chemistry between the characters is palpable, accentuating the song's narrative and providing viewers with a genuinely entertaining experience.
With her vibrant and genuine style, Kalonda Kay effortlessly steals the spotlight in the video, captivating audiences with her magnetic presence. Her infectious energy and charisma shine through, leaving a lasting impression and generating anticipation for her future releases.
An Infectious Summer Anthem
"Too Soon" is an irresistible track that seamlessly blends elements of R&B, soul, and pop, resulting in a mature yet fun-filled vibe. Kalonda's smooth and velvety vocals effortlessly soar over the melodic instrumentation, effectively capturing the essence of 90s music while infusing it with her own unique style. The lyrics, centered around the hesitations of taking a relationship to the next level, strike a chord with listeners of all ages, making it a relatable and memorable summer anthem.
The track's production, helmed by Joe "Capo" Kent, exhibits his masterful craftsmanship in creating a timeless sound that pays homage to the golden era of R&B. The carefully crafted melodies, infectious hooks, and polished arrangements all contribute to the track's irresistible appeal, making it impossible to resist dancing along.
Since its release, "Too Soon" has garnered widespread acclaim from both fans and critics alike. It is now available for streaming on various platforms, including Spotify, Amazon, Apple Music, and YouTube, via Tunecore. The song's catchy melodies, relatable lyrics, and Kalonda's exceptional vocal prowess have propelled it to become a fan favorite and a standout hit within the music industry.
The Rising Star: Kalonda Kay
Kalonda Kay, born and raised in the vibrant city of St. Louis, has always possessed an unwavering passion for music. From a young age, she discovered her innate talent for singing and performing, captivating audiences with her powerful and soulful voice. Influenced by musical icons such as Whitney Houston, Mariah Carey, and Janet Jackson, Kalonda honed her skills and developed a style that is uniquely her own.
What sets Kalonda apart is her remarkable vocal range, which allows her to effortlessly transition between soulful ballads and energetic uptempo tracks. Her versatility as an artist enables her to explore various musical genres while staying true to her authentic sound. Kalonda's undeniable talent and genuine passion for music continue to propel her career forward, establishing her as a rising star to watch in the music industry.
Connect with Kalonda Kay
To stay up-to-date with Kalonda Kay's captivating musical journey and future releases, follow her on various social media platforms:
Don't miss the opportunity to embark on an enchanting musical journey with Kalonda Kay. Immerse yourself in the mesmerizing "Too Soon" music video, and stay tuned for more exciting releases from this rising star.