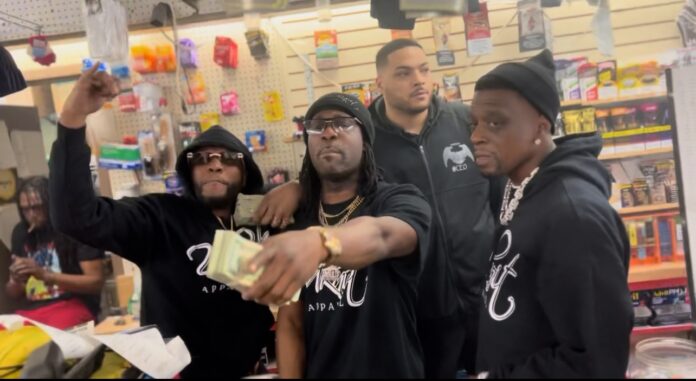 North Minneapolis Rapper Uknoitboysaine been making noise in the twin cities with his recent collaboration with rap icon Boosie Badazz after his recent Minnesota visit.
Uknoitboysaine is a American hip hop artist who is signed to Uknoit LLC Label where is track record speaks for his self with break out songs like "Gang Shit" and more.
We spoke to UknoitBoySaine about his musical biography and upbringing:
Tell us about your background getting to where you today?
My background is like any other young adult growing up in a hard environment like north Minneapolis. North Minneapolis was the "Trenches" and that where I seen and heard so much wild stuff growing up.
Where are you from?
I was rude and born in the heart of Minneapolis Minnesota over north side my whole life grow up as a kid.
When did you start to make music?
I started making music when I was released from jail in 2016 and learn how to rap from my brother coming up in the music industry at the time.
How did you get into music?
When I was out of jail my brother told me to focus more on my music path and I started rapping in the studios and created a love for it.
What Is the most challenging thing you have overcome in your life?
One of the biggest obstacles in life is having to overcome death of love ones and it taking a total on your mind and body.
Are you currently signed or independent, also who inspires you the most musically?
Yes I'm currently signed to "Uknoit" music label, and I would have to say my brother Doddy Cane and him always push me to go harder with my talent and craft.
What do you want people to take away after listening to your music?
I truly want my listen to understand that when I rap I speak facts and I got a story to tell and where I came from and really grow up. I want it to help people from the same walks of life as me.
Any new music coming out we should know about?
Yes my collaboration with Boosie Badazz and my new song "Snow Money" featuring Dutch Rugar. When Boosie came to Minneapolis I connected him cause of his amazing sound and quality. He been in the game for years and I know that this would be big for my career. He's a dope and positive person that's been making good music for years.
Do you produce your own music, Would you work with in the music game?
I work with "Jtcbeats" and many other amazing producers in the city.
Who is one artist you wish you could work with?
Lil baby and lil durk can't forget EST Gee because he the goat and never really had problems in the industry!
What does a day inside your shoes look like?
I live a normal life as a father pushing to be a main stream artist where I wake up and take my kid to school and go off to work. When I have time I get in the studio and push my work and music. I'm truly thank for my team Unkoit Management/ Label Doedy Cane, Dutch Rugar, Sleepy Savage.
Anything else you want the audience to Know about you?
I'm a cool person to work with making classic songs.
What is Your greatest achievement as a musician?
The growth I have accomplished in life as a artist and where in can take me in the future as being a leader in the city and put my city on the map.
Stay Tuned with UknoitBoySaine
Spotify:
Instagram: https://instagram.com/uknoitboysaine?igshid=YmMyMTA2M2Y=