eJay Dance 7 Virtual Music Studio is Back! Doesn't matter if you are a professional musician or a hobbyist wanting to make great music, eJay Dance 7 makes it easy for you, to become a beatmaker and create great tracks.
This new version is easier to use. You will be making your own music and samples in no time. Dance eJay 7 offers 5,000 new royalty-free sounds, many effects and a completely redesigned interface.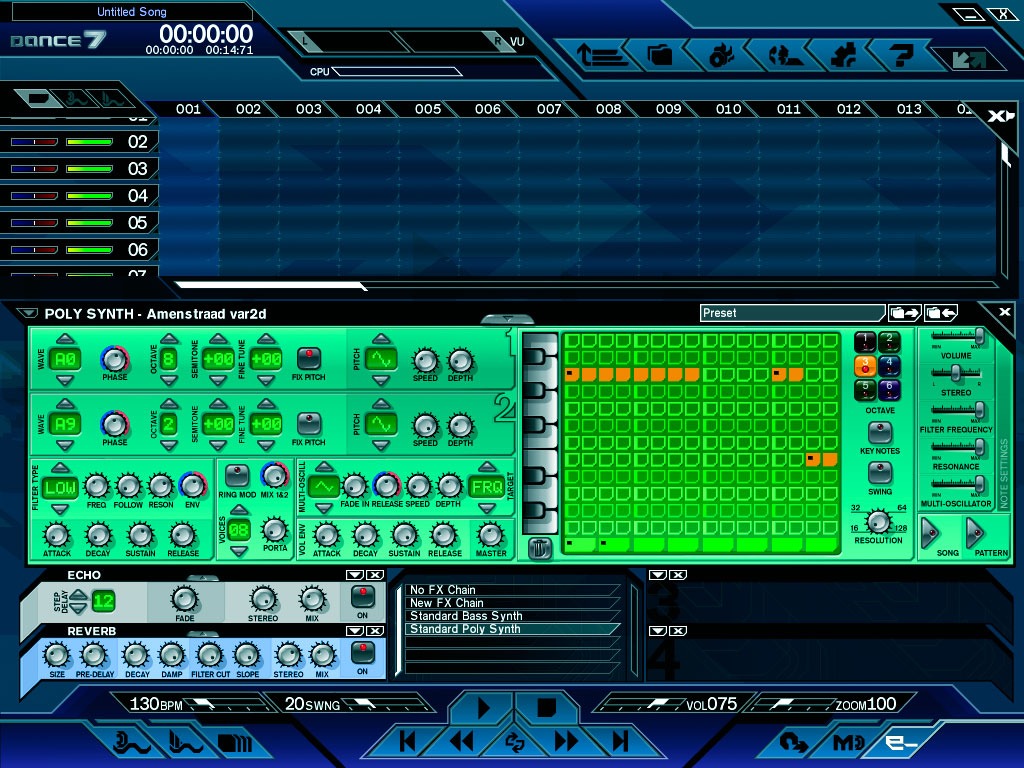 Dance eJay 7 features 99 true stereo tracks which have controls for pan and volume, as well as Performance Curves. Songs are now built from Sound Clips, which contain one real-time instrument from a selection of Sample Loop Player, Poly Synth, Bass Synth and Drum Machine, and up to 4 real-time effects per clip, allowing extreme flexibility and final production polish.
With a new Sample Studio, with enhanced editing features and the ability to process samples using any of the virtual effects. Other key features are the offline HTML-based Help & Tutorial Document.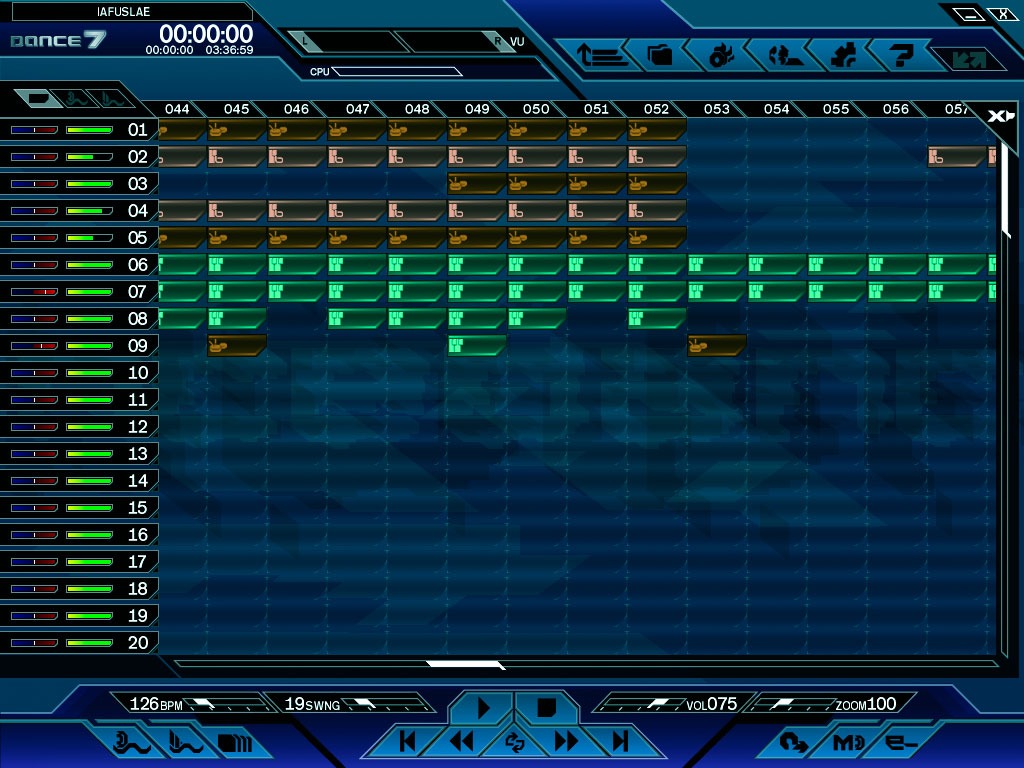 Please Note: By using the .wav export function in the previous eJay software you will be able to import samples or complete tracks into Dance 7 as direct wav files support.
Enjoy adding unlimited effects and sounds. Create your music now!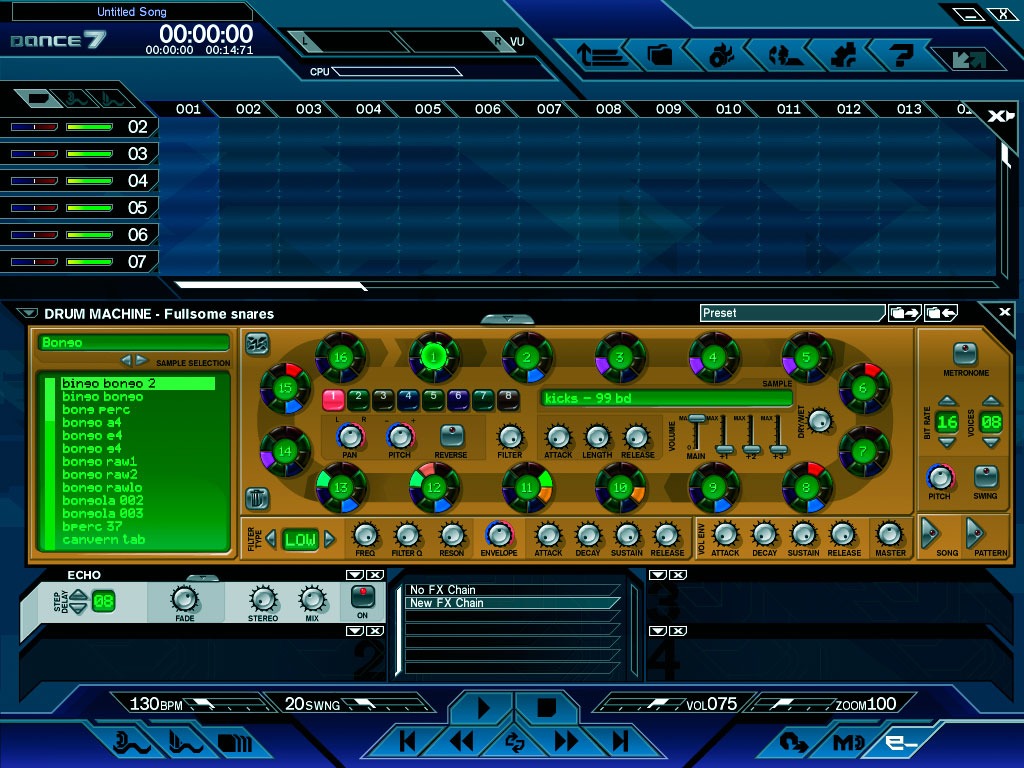 Features:
5,000 royalty-free professional samples, loops, beats and patches.
4 virtual instruments; Sample Loop Player, Drum Machine, Poly Synth and Bass Synth – switch between beginner and advanced mode as desired.
6 top-notch effects; echo, chorus, reverb, compressor, distortion and equalizer with the ability to add more…
Master Effects: this gives you the power to create a polished final mix.
Sample studio: professional audio editor to create and modify samples.
Volume & Pan Curves: gives you full mixing desk style control over each track.
Auto Archive: Automatically creates a backup of every song you save.
Burn your tracks to an audio CD with the integrated burner.
Export your songs as WAV files.
Change BPM without changing the pitch of the song (40 – 600 bpm).
Multilanguage (English, French, German),
The performance meter shows how hard your PC is working.
Faster Load times than previous versions.
Comprehensive offline HTML manual and quick tutorial.
Song Arranger
Up to 99 channels and 999 bars.
Song Data Cut, Copy & Paste.
Users can save Virtual Instrument settings as a "Preset".
Volume Performance Curve for each channel.
Pan Performance Curve for each channel.
Mute and Solo multiple channels.
Individual Volume & Pan setting for each channel.
The zoom function allows zooming in or out of the Arranger screen.
V.U. meter shows the stereo output as the Song plays.
"Panic" mute to toggle volume on/off.
Sample Studio
Sample new sounds into Dance 7.
Edit samples with cut, copy, paste and trim.
Apply any number of effects.
Save for later use or use in Sample Loop Player.
Virtual Instruments
Sample Loop Player.
Plays back custom loops, samples or WAV files.
Edit the aspects of a loop at a component level.
Synthesizer.
Built-in note sequencer allows the creation of any melody.
Virtual Instrument allows almost infinite sound creation by parameter editing.
Fully polyphonic, allowing chord pattern creation.
Drum Machine.
Use up to 8 drum sounds to create your own rhythms.
Edit the volume, pan, filter and other parameters of each instance of each sound.
Bass Synth.
Built-in note sequencer allows the creation of any bass line.
Virtual Instrument allows almost infinite sound creation by parameter editing.
Monophonic with Portamento for slide bass effects.
Effects
Master Effects – Chose 4 Master Effects to modify your song.
Reverb – Fully configurable to create environments (hall, room, etc).
Chorus – Fully editable to create gentle phasing, wide choral or pipe delay effects.
Echo – Vary the echo time, stereo width and mix levels.
E.Q. – Fine tune with 10 frequency band controls.
System Requirements:
Windows 10, 8, 8.1, 7/Vista/XP 32 or 64 Bits.
1.2 GHz Processor.
512 MB RAM.
1.5 GB Free Disk Space.
DirectX 9 or higher.