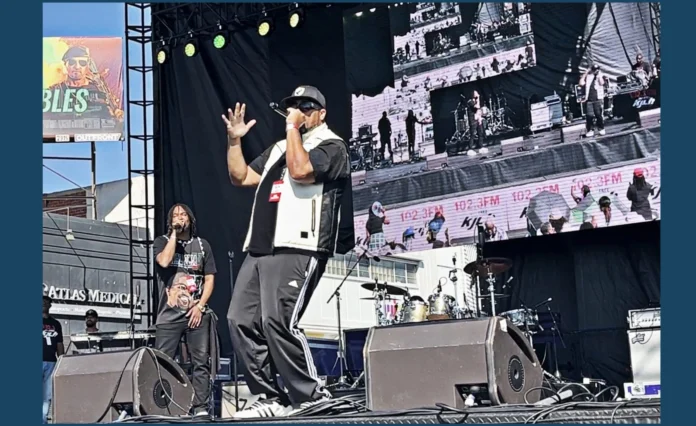 Taste of Soul L.A.: An Epic Block Party to Remember
Prepare for an extraordinary journey through the vibrant streets of Los Angeles, where an astounding half a million passionate music enthusiasts converged for the monumental Taste of Soul L.A. on October 21, 2023. This legendary event, renowned as the city's largest block party, transformed into an immersive celebration of music, culture, and unity, setting an all-time high record for attendance.
Harmonious Convergence: Taste of Soul L.A. blossomed into a haven of musical harmony, attracting attendees from diverse backgrounds to honor the profound impact of music. The remarkable turnout emphasized the universal language of music, breaking down barriers and uniting a diverse crowd.
Transcendent Showmanship: Esteemed Christian rap artist Emcee N.I.C.E. and gospel virtuoso Canton Jones took the stage by storm. They commenced the spectacle with an emotionally charged prayer, and their mesmerizing performance had the entire audience dancing in unison. Their extraordinary fusion of faith, hip-hop, and gospel struck a deep chord with the diverse crowd, captivating hearts and minds alike.
Presidential Recognition: Just hours before gracing Taste of Soul L.A., Emcee N.I.C.E. and Canton Jones were bestowed with the prestigious Presidential Lifetime Achievement Award. This distinguished honor was presented by Hidden Gemz, Egypt Ufele, Bullychasers Inc., Dr. Reba & Vz Washington, and personally endorsed by President Joseph R. Biden. The accolade underscored the profound impact these artists have had on their communities.
A Star-Studded Guest List: The event attracted a constellation of influential figures, including the dynamic Mayor Emma Shariff, the formidable U.S. Congresswoman Barbara Lee, the charismatic L.A. Mayor Karen Bass, the influential County Supervisor Holly Mitchell, and a host of elected luminaries. Their presence elevated the grandeur of the celebration, emphasizing its significance.
Inspiring Faith and Unity: Emcee N.I.C.E. and Canton Jones' performances resonated perfectly with the event's central themes of unity and hope. Their music acted as a powerful beacon, motivating and nurturing a profound sense of unity, faith, and community among the diverse audience.
Taste of Soul L.A. stands as a transformative and unifying experience for Los Angeles, brilliantly illustrating the potential of music to bring people together. The unforgettable performances by Emcee N.I.C.E. and Canton Jones at this year's event will be etched in the annals of music history, marking a remarkable milestone in the celebration of music, culture, and unity.
To delve deeper into Emcee N.I.C.E.'s musical journey, follow him on Instagram and Twitter at @EmceeNICELA. To stay updated on Canton Jones' latest music and news, explore his vibrant social media profile.