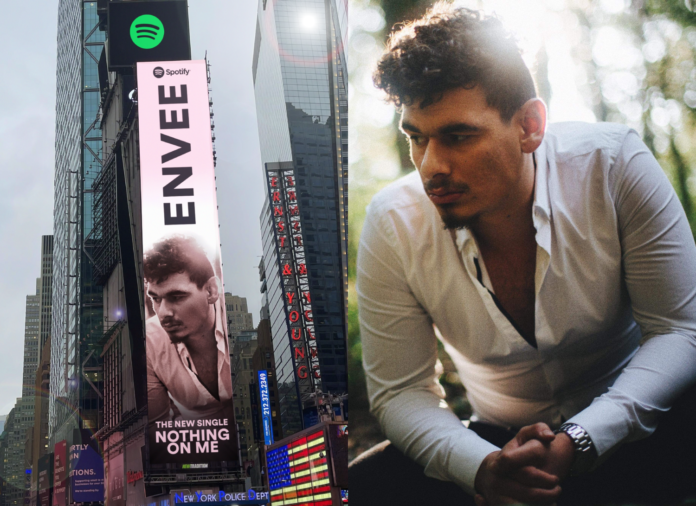 Unveiling Envee's Latest Musical Creation: "Nothing On Me" featuring Demione Louis
Envee, a dynamic Australian rapper and singer, has recently graced the music scene with his latest single, "Nothing On Me," featuring the distinct vocals of Demione Louis. Envee's artistry exudes a remarkable blend of lyrical mastery and a unique energy that infuses the genre with renewed vigor. This release marks a significant stride in his musical journey, with "Nothing On Me" delivering lyrics that boldly declare Envee's unwavering power and determination.
An Unapologetic Declaration of Artistic Dominance
The lyrics of "Nothing On Me" stand as an unapologetic declaration of Envee's supremacy in the music realm. The track resonates with an unbridled confidence as Envee fearlessly proclaims his unparalleled status in the industry. With every verse, he asserts his artistic prowess, leaving no room for doubt that he stands unrivaled by any other artist. The chorus, designed to be addictive and memorable, serves as the anthem of the track, cementing its place as a source of inspiration for Envee's ever-growing fan base.
A Harmonious Fusion of Talents
In collaboration with Demione Louis, Envee's "Nothing On Me" becomes a harmonious tapestry of talents. Demione's fervent and captivating voice complements Envee's charismatic presence, creating a musical synergy that electrifies the track. This union of artistic excellence not only adds depth to the single but also showcases the potential of these two artists to create an enduring impact in the music industry.
Setting the Stage for a New Musical Era
"Nothing On Me" is not merely a song; it's a testament to Envee's vision and determination to carve his own path in the musical landscape. With each note and every line, Envee asserts his position as a creative force to be reckoned with. The track's vibrant energy and undeniable charm serve as a precursor to the new musical era that Envee aims to usher in.
Empowering Listeners, Inspiring Fans
The power of "Nothing On Me" extends beyond its musical arrangement. Envee's lyrical prowess serves as a source of empowerment, encouraging listeners to embrace their individuality and strengths. As fans resonate with the track's unapologetic spirit, Envee's influence expands beyond his musical compositions, becoming a catalyst for self-confidence and self-expression.
Stream or Purchase "Nothing On Me" feat. Demione Louis Today
As "Nothing On Me" reverberates through speakers and headphones, it invites listeners into Envee's world of musical authenticity and bold assertion. The track, featuring the captivating vocals of Demione Louis, encapsulates Envee's journey and aspirations, leaving an indelible mark on the hearts of those who experience its resonant melodies. To join the musical voyage, stream or purchase "Nothing On Me" feat. Demione Louis today.
Stream or purchase Nothing On Me feat. Demione Louis today: