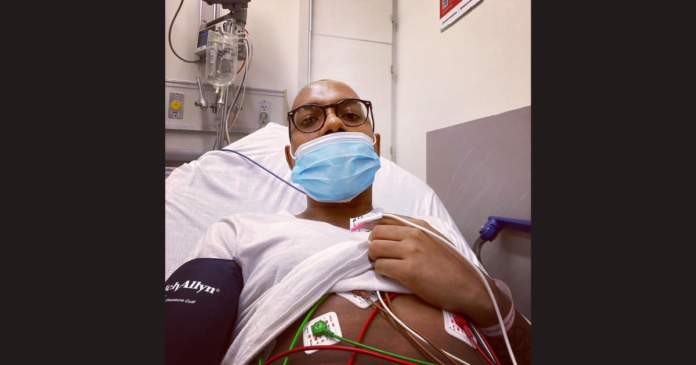 Luca Dayz, the forward-thinking and visionary CEO of Bentley Records, recently caused a stir among his fans and industry colleagues due to a sudden health scare. However, thanks to the swift response and exceptional care provided by the extraordinary first responders of New York City, Dayz has made a full recovery and wasted no time in returning to his dynamic role.
Dayz's brief health scare momentarily disrupted his typically fast-paced routine. Nonetheless, it served as nothing more than a momentary pause. The charismatic entrepreneur has regained his vitality and is now back on his feet, overseeing the multifaceted operations of Bentley Records, the renowned music label known for pushing boundaries in the ever-evolving world of music.
Excitement Builds for Upcoming Collaborations
Bentley Records has been generating significant anticipation in the industry with a series of forthcoming projects. Notably, the label is preparing to release highly anticipated singles in collaboration with acclaimed artists Gucci Mane and Lil Wayne. Fans eagerly await these new releases, as they promise to deliver a captivating fusion of styles and unleash boundless creativity.
In addition to the collaboration with Gucci Mane and Lil Wayne, Bentley Records has been actively seeking out fresh talent and exploring unique musical partnerships. This commitment to nurturing emerging artists and fostering innovative collaborations sets Bentley apart from other labels and ensures a constant stream of exciting and diverse music for their dedicated fan base.
Furthermore, Bentley Records has recently unveiled a new compilation album. This latest release features an impressive lineup of musical superstars, further solidifying Bentley's well-deserved reputation for producing cutting-edge music. The compilation serves as a testament to the label's ability to curate a diverse range of talent and create cohesive musical experiences for their audience.
Conquering the Stage with the #BentleyGang Tour
Beyond the realm of recorded music, Bentley Records has embarked on the highly successful West Coast leg of the widely acclaimed #BentleyGang tour. Captivating audiences with electrifying performances in both Los Angeles and Phoenix, the tour exemplified Bentley's unwavering commitment to providing fans across the nation with unforgettable live music experiences.
The #BentleyGang tour showcases the label's dedication to connecting with their audience on a personal level and bringing their music to life in a vibrant and energetic way. Each show is meticulously crafted to deliver an immersive and memorable experience, leaving concertgoers with a lasting impression of Bentley Records' unparalleled talent and passion for their craft.
With plans to expand the #BentleyGang tour to more cities and reach even larger audiences, Bentley Records is poised to make an indelible mark on the live music scene. Their commitment to delivering high-quality performances and creating an inclusive and engaging atmosphere sets them apart from their competitors and ensures their continued success on the stage.
Breaking Barriers in the Digital Landscape
However, Bentley Records' groundbreaking initiatives are not limited to the realm of music alone. The label is actively making strides in the digital sphere, with Bentleyrecords.io leading the way in the development of Web3 tools and exploring the potential of decentralized web technology. This forward-thinking endeavor perfectly aligns with Bentley's innovative approach and further underscores their determination to stay ahead of industry trends.
Bentleyrecords.io aims to revolutionize the way music is created, distributed, and consumed by leveraging the power of blockchain technology and decentralized platforms. By embracing the possibilities offered by Web3 tools, Bentley Records is empowering artists, streamlining the music production process, and providing fans with new and immersive ways to engage with their favorite artists.
In addition to their digital ventures, Bentley Records actively utilizes social media platforms to connect with their audience and build a strong online presence. Through strategic content creation, engaging with fans, and leveraging the power of influencer marketing, Bentley Records has successfully cultivated a loyal and dedicated online community, further expanding their reach and impact in the digital landscape.
The Future of Music: A Promising Outlook
As CEO Luca Dayz returns to full health and resumes his duties, the Bentley Records team is more enthusiastic than ever. With an exciting lineup of projects, ongoing tours, and groundbreaking digital ventures, Bentley Records continues to solidify its position as a major influencer in the global music scene. Be sure to stay tuned and witness firsthand how they will shape the future of music.