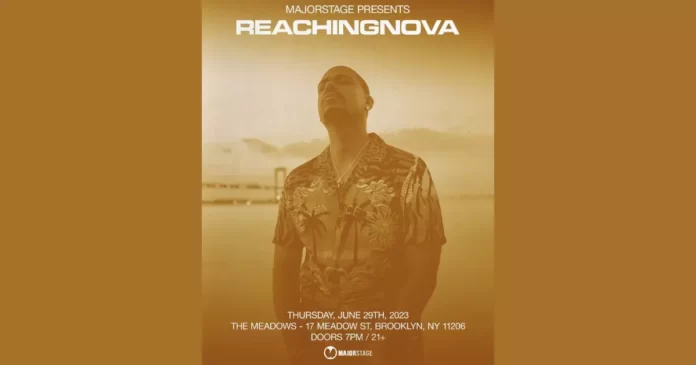 Get ready to witness a night of pure musical magic as ReachingNOVA, the talented rapper behind Becoming Timeless, prepares to take the stage at The Meadows in New York City on June 29th. Presented by MajorStage productions, this highly anticipated concert promises to be a thrilling experience that will leave the audience in awe. With a stellar lineup of artists and an atmosphere charged with excitement, this event is set to be one for the books.
The Lineup: A Fusion of Talent
ReachingNOVA will be joined by an exceptional group of artists who will bring their unique styles and talents to The Meadows stage. Among them is WOLF, an artist known for his infectious energy and dynamic stage presence. With his vibrant performances and captivating style, WOLF is sure to get the crowd moving and create an electric atmosphere.
Deja Destinee, a rising star with a soulful voice, will captivate hearts with her powerful vocals and emotional depth. Her mesmerizing performances are bound to leave a lasting impression on the audience. Joziah Council, a gifted artist with a lyrical prowess and thought-provoking messages, is set to deliver a performance that will resonate deeply with the listeners.
Ariel River, known for her ethereal voice and poetic lyrics, will transport the audience to another world with her enchanting melodies. Her ability to create a magical and immersive experience through her music will undoubtedly captivate the hearts of those in attendance. Last but not least, Kevin Milan, with his smooth R&B vibes and charismatic stage presence, will have everyone grooving to the rhythm and enjoying an unforgettable musical journey.
An Unforgettable Night for Fans
ReachingNOVA and his team have prepared a special surprise for their dedicated fans attending the concert. As a token of appreciation for their unwavering support, fans are encouraged to submit screenshots of their ticket purchases to ReachingNOVA's manager, Queen V. In return, they will receive two raffle tickets, offering them a chance to win exclusive Kings Legacy/ReachingNOVA merchandise. This exciting opportunity allows fans to take home a piece of memorabilia that will serve as a lasting reminder of this incredible night.
The Meadows, located in the heart of Brooklyn, is not just a venue—it's a legendary music destination with a rich history of hosting iconic performances. Its state-of-the-art facilities and top-notch sound quality ensure that every note, beat, and lyric reverberates through the air, creating an immersive experience for the audience. The combination of outstanding acoustics, visually captivating staging, and a vibrant atmosphere will make The Meadows the perfect backdrop for ReachingNOVA's electrifying showcase.
The concert is scheduled to kick off at 7pm and continue until 9pm, providing two hours of non-stop entertainment and musical brilliance. ReachingNOVA, known for his high-energy performances and engaging stage presence, has hinted at a surprise guest appearance. This mysterious addition has sparked excitement and speculation among fans, who eagerly await the unveiling of this special guest. The element of surprise adds an extra layer of anticipation and ensures that the night will be filled with unexpected moments.
An Event Beyond Expectations
If you're a fan of ReachingNOVA, a lover of live music, or simply someone who craves an electrifying night out, this concert is an absolute must-attend event. The fusion of diverse talents, the pulsating energy of the crowd, and the electric atmosphere of The Meadows will create an experience that will stay with you long after the final encore.
Don't miss your chance to secure your tickets and immerse yourself in the power of live music. Witness the magic as ReachingNOVA and his fellow artists set The Meadows ablaze with their immense talent and infectious enthusiasm. This is a once-in-a-lifetime opportunity to be part of a night that will go down in the annals of music history. Prepare to be amazed, captivated, and electrified!