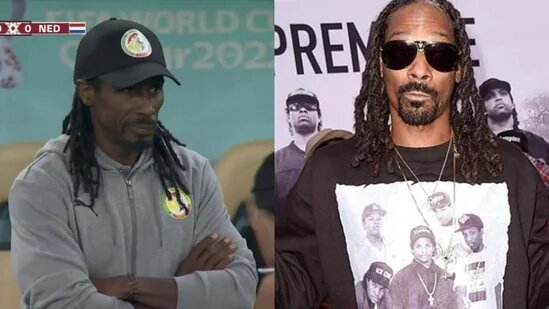 On social media, a picture of Senegal football coach Aliou Cisse has gone viral.
Reason? He resembles American rapper Snoop Dogg, as some users have noted. And evidence for this may be found in a tweet that features Cisse during his team's FIFA World Cup encounter versus the Netherlands.
The tweet includes a picture of the Senegal coach looking sternly at the game while donning a cap. The image even caught Snoop Doog's eye, who responded to it with a football emoticon.
"He looks much more like Dodo, singer of the greatest Brazilian pagode group 'PIXOTE'," posted an individual. "I thought the same. Hahaha, and I took a picture to show my friends!," wrote another. "Snoop Dogg and Alioune Cisse do look alike tho," expressed a third. "This is football anything can happen," joked a fourth.
A viral tweet gets people talking online
"Why is @SnoopDogg the coach of Senegal?" reads the tweet posted by a user named Max.
November 22, 2022
"I swear when I saw him first time on football tiktok video I was shocked that he is actually snoop dogg," a person said.
"Glad to see I was not the only one thinking the same thing," a second person said.
"He can wrestle, play à Na'vi and vampire and Sésame Street Count, cook with Martha Stewart and do the Super Bowl show…so why can't train Senegal's soccer team?" a person joked.
"Because you have to be high to tolerate the team's performance? Best I got…" said another.
The tweet has received more than 5.4 lakh likes since it was tweeted a day ago, and the numbers are still rising. The share has received a number of comments as well.