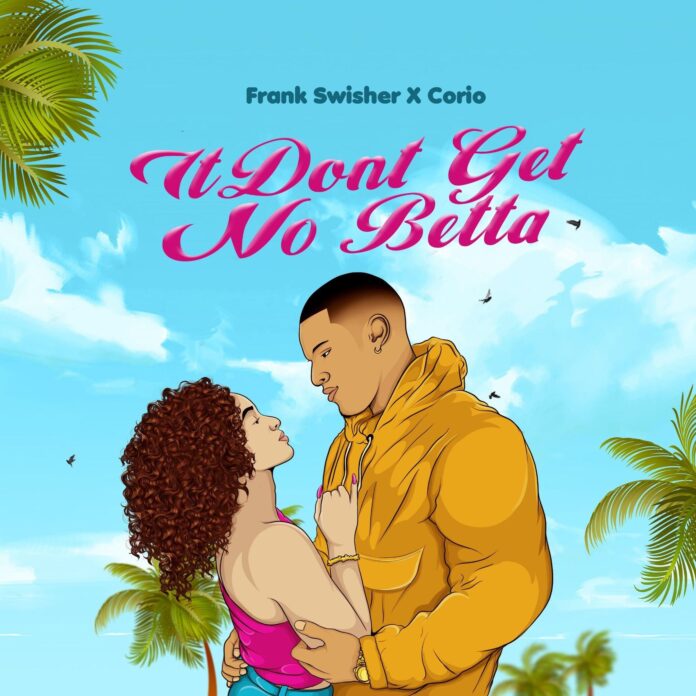 The talented Corio and Frank Swisher collaborate on the powerful, sentimental song "ItDontGetNoBetta"
The soulful vocals of Corio are featured on the next emotive R&B hit from quickly emerging producer Frank Swisher, "ItDontGetNoBetta."
The song is a hauntingly lovely ballad that highlights Corio's spectrum of emotions and Frank Swisher's talent for creating enthralling soundscapes. "ItDontGetNoBetta" is a highlight piece that displays the talent of both performers with its soaring chords and moving lyrics. The single is a sensual, heartfelt song that perfectly expresses the emotion of unrequited love. The sincere performance by Corio, who has raw, strong voice, is sure to touch listeners. The track's overall attractiveness is enhanced by the production's slick, polished execution.
With his distinctive creations and dedication to crafting music that resonates with listeners, Frank Swisher has been causing waves in the music industry. His earlier albums received positive reviews and a strong fan base, and "ItDontGetNoBetta" sets the standard for 2023.
On January 13, 2023, "ItDontGetNoBetta" will be accessible on all top streaming services. Don't pass up Frank Swisher's fantastic new release!
Frank Swisher's
Hip-hop is home to a budding star named Frank Swisher. He has rapidly amassed a devoted following and received praise for his music from critics because to his distinctive style. Swisher's heartfelt and thought-provoking tunes demonstrate his enthusiasm for writing music that appeals to people.
Since he has collaborated with so many different musicians, Frank Swisher has gained recognition in a variety of musical circles. He is regarded as one of the most interesting producers to watch in the business and is well known for his capacity to build beats that are both emotive and uplifting. Swisher, who was born and raised in Toledo, Ohio, has a devoted following and a Grammy nomination because to his distinctive fusion of traditional and modern influences. Frank Swisher is ready to make his imprint on the music industry after a streak of hit singles and upcoming highly anticipated releases.
Follow Frank Swisher – Instagram Twitter
Follow Corio – Instagram Twitter