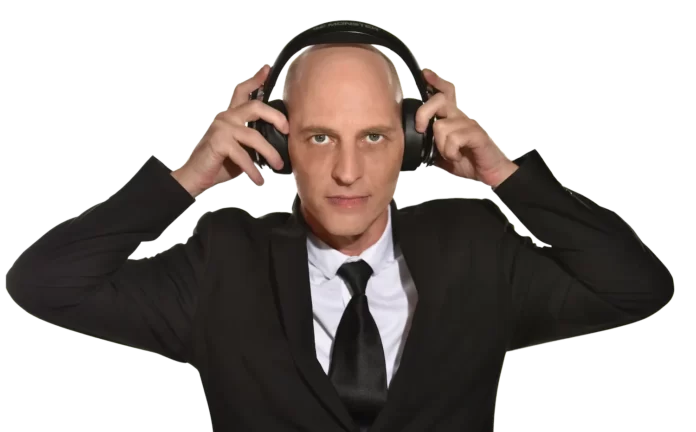 The Miami Celebrity News
In the heart of Rishon Le Zion, Israel, a master conductor of Latin rhythms emerged, setting dance floors ablaze and captivating souls across the globe. Born on a spring day in 1970, D.J. Ronen (Paco) Biran's roots trace back a mere 15 minutes from the vibrant pulse of Tel-Aviv. His life's journey unfurled as a symphony, each beat transforming the realm of Latin music.
From the earliest days of his childhood, it was clear that Biran possessed an extraordinary connection to music. His journey into the realm of melodies and rhythms began in the most unassuming setting—playing music at gatherings for friends. This early exposure laid the groundwork for a dazzling career that would become synonymous with Latin beats.
In 1993, the world bore witness to the birth of DJ Paco's professional odyssey. An ambitious 23-year-old, he made his debut as a salsa DJ, announcing his presence to a global audience. Remarkably, that same year marked his triumphant victory in the inaugural Israeli national salsa competition, both as a dancer and as a DJ. This dual triumph cemented his position as a luminary among Israel's elite Salseros, earning him respect and admiration from peers and aficionados alike.
Beyond the pulsating beats, DJ Paco's mission was unwavering—to amplify the essence of Latin music and dance not only within Israel but across borders. As a linchpin of the Salsaweb magazine team, he navigated the role of world cityguide administrator with finesse. This platform became his vehicle for championing salsa's rich cultural heritage, earning him accolades and accolades on an international scale.
The global stage beckoned, and DJ Paco answered with charisma. From the enchanting Club Purto Loco to the illustrious Club Maxim, his artistry as a DJ reverberated through renowned Latin clubs and events in Israel. His innate understanding of Latin rhythms amplified his presence, gracing major concerts featuring luminaries like Tito Rojas, Los Van Van, and Romeo Santos. His magnetic performances left an indelible mark on the fabric of Latin music.
As the sun set over international horizons, DJ Paco's allure expanded beyond borders. Invitations flowed, summoning him to prestigious Latin events, congresses, and conventions worldwide. The SalsaWeb convention in Toronto, Canada, the first salsa club in Jordan, the salsa congress in Holland, the British salsa congress, the Turkey Salsa Congress, the LA Salsa Fest—his transcendent presence lit up stages worldwide. His role as the warm-up DJ for Marc Anthony at the Todo Latino salsa festival in Athens sealed his status as a luminary.
A polymath of talent, DJ Paco turned curator, co-producing and directing the annual Israeli salsa congress from 2001 to 2004. This gala drew participants from every corner of the globe, solidifying his legacy as an ambassador of Latin culture. The pageantry continued as the artistic director of "Fiesta," the Middle East's grandest Latin Festival, which captivated over 60,000 attendees in 2005 and 2006.
Determined to spread the salsa fervor, DJ Paco initiated a digital revolution. He founded the largest salsa website in Hebrew, http://www.salsa.org.il, an official online haven for Israel's salsa aficionados. As the steward of "Club Focus" and "Bailatino," he nurtured salsa's growth, fostering a community of 20 instructors and over 750 students weekly.
Transitioning seamlessly, DJ Paco emerged as Israel's premier Bachata Sensual DJ, igniting the dance floor with an ardent following of over 800 dancers every Saturday. His magnetic sets created an enchanting world where melodies and movement intertwined seamlessly.
Currently, DJ Paco stands as the resident DJ of "Havana Music Club," Israel's grandest Latin Music haven. Patrons flock to experience his captivating Salsa and Bachata renditions, embodying the very spirit of Latin rhythm.
His influence reverberates beyond clubs and festivals as he becomes an official DJ of Bachata Sensual Radio, sharing his passion with listeners around the world.
D.J. Ronen (Paco) Biran's legacy echoes through time, an indomitable force who harnessed music's power to create, connect, and inspire. A beacon of Latin rhythm, he continues to inscribe his name upon the annals of music history, reminding the world that a cadence, once ignited, becomes eternal.