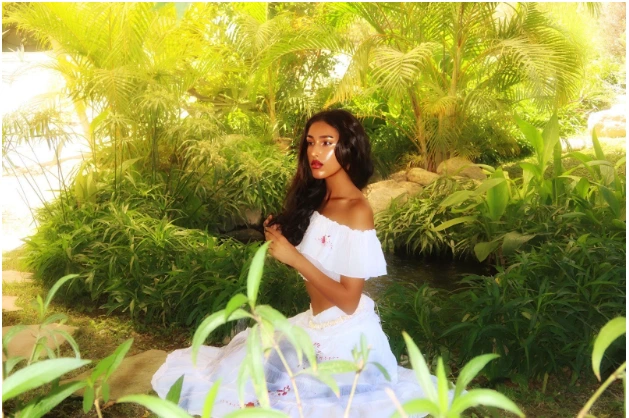 Hailing from the diverse cities of Los Angeles, California and Doha, Qatar, Sahera is a trailblazing artist who is breaking barriers and making waves in the music industry. With her unique blend of pop music and her Qatari roots, Sahera is forging a path as the first Qatari girl to pursue pop music, a departure from the traditional life paths followed by many Qatari girls.
For Sahera, being an artist is more than just a career; it is a beautiful way of life that she is grateful to experience every day. Music has become her medium to reflect her thoughts, feelings, and experiences, granting her a profound understanding of the power of art. Initially, music was something Sahera pursued for fun while attending school. However, the COVID-19 pandemic provided her with the solitude and reflection necessary to explore her purpose in life. In 2020, Sahera started making music, a decision that has propelled her to where she stands today. She is thrilled to witness the rapid growth of the music scene in Gulf countries like Qatar and Saudi Arabia, and she hopes to inspire more Qatari female artists to chase their dreams.
Embracing Freedom: Sahera's Inspirations
Sahera's inspiration stems from her love for freedom, which was cultivated during her upbringing in Los Angeles. Surrounded by individuals who defied societal norms and pursued their own happiness without concern for others' opinions, Sahera was deeply inspired. She attributes her upbringing in LA as a pivotal influence in shaping her identity and is forever grateful for the experience.
While Sahera has always been passionate about writing poetry, singing, and playing the violin, she never considered pursuing music seriously due to her focus on academics. However, dedicating her energy to music has allowed her to discover her true passion. Sahera's creativity flows endlessly, with new songs being written almost every week, and her notes app filled with countless ideas. Creating music brings her immeasurable joy, and she feels she is truly living her best life.
"KHALEEJI": A Breakthrough Moment
One of Sahera's breakthrough moments came with her song "KHALEEJI," which gained popularity on TikTok in Saudi Arabia and other Gulf countries. The music video, in particular, made waves, and being the first Qatari girl to create pop music, Sahera undoubtedly shocked many people. Her departure from traditional Qatari norms sparked controversy, but she found solace in the overwhelming love and support she received from fellow Qatari and Saudi girls. Their encouragement inspired her to continue making music that integrates her cultural heritage. Sahera feels honored to be part of the burgeoning music scene in the Gulf, and she is determined to make a lasting impact.
A Resilient Journey: Sahera's Path as an Artist
Sahera's journey as an artist is a testament to her resilience, bravery, and determination to pave the way for Qatari female artists in the world of pop music. She embodies the spirit of breaking boundaries and defying expectations, and her music serves as a bridge between her cultural heritage and contemporary pop sounds. As she continues to create and share her music, Sahera's influence will undoubtedly inspire generations of artists to follow their passions and embrace their uniqueness, regardless of societal norms.
Follow Sahera's journey on Instagram: https://www.instagram.com/yasahera/
Listen to Sahera's music on Spotify: https://open.spotify.com/artist/31P3sQvEsje9IuWRn9diWC?si=6XyN6mgiSZ2Pfk3QTD0iNg